Caterpillar (CAT) saw steady revenue growth in the last reported quarter despite the macroeconomic challenges. Management seems confident in the company's 2023 performance. Let's take look at some of its key metrics to understand why it could be wise to invest in the stock now...
Caterpillar Inc. (CAT), a leading construction and mining equipment manufacturer, reported double-digit top-line growth and record-high adjusted profit per share for the fiscal first quarter ended March 2023. Despite the economic slowdown, the industry has maintained consistent sales growth due to pandemic backlogs and increased demand from new factory constructions.
Given the ramped-up construction projects, CAT attained a remarkable quarter, exceeding analysts' expectations. With management expecting 2023 to be better than previously anticipated, the stock could be a wise investment now.
Let's review some of its core metrics…
Positive Net Income Trend and Increasing Dividend per Share
CAT's net income has had a generally upward trend over the past three years, growing from $414.20 million in June 2020 to $711.10 million in March 2023, an increase of 72%. There have been some fluctuations along the way, such as a decline from $431.90 million in March 2021 to $299.80 million in December 2021, but the overall trend has been positive. CAT reported a net income of $671.50 million in December 2022.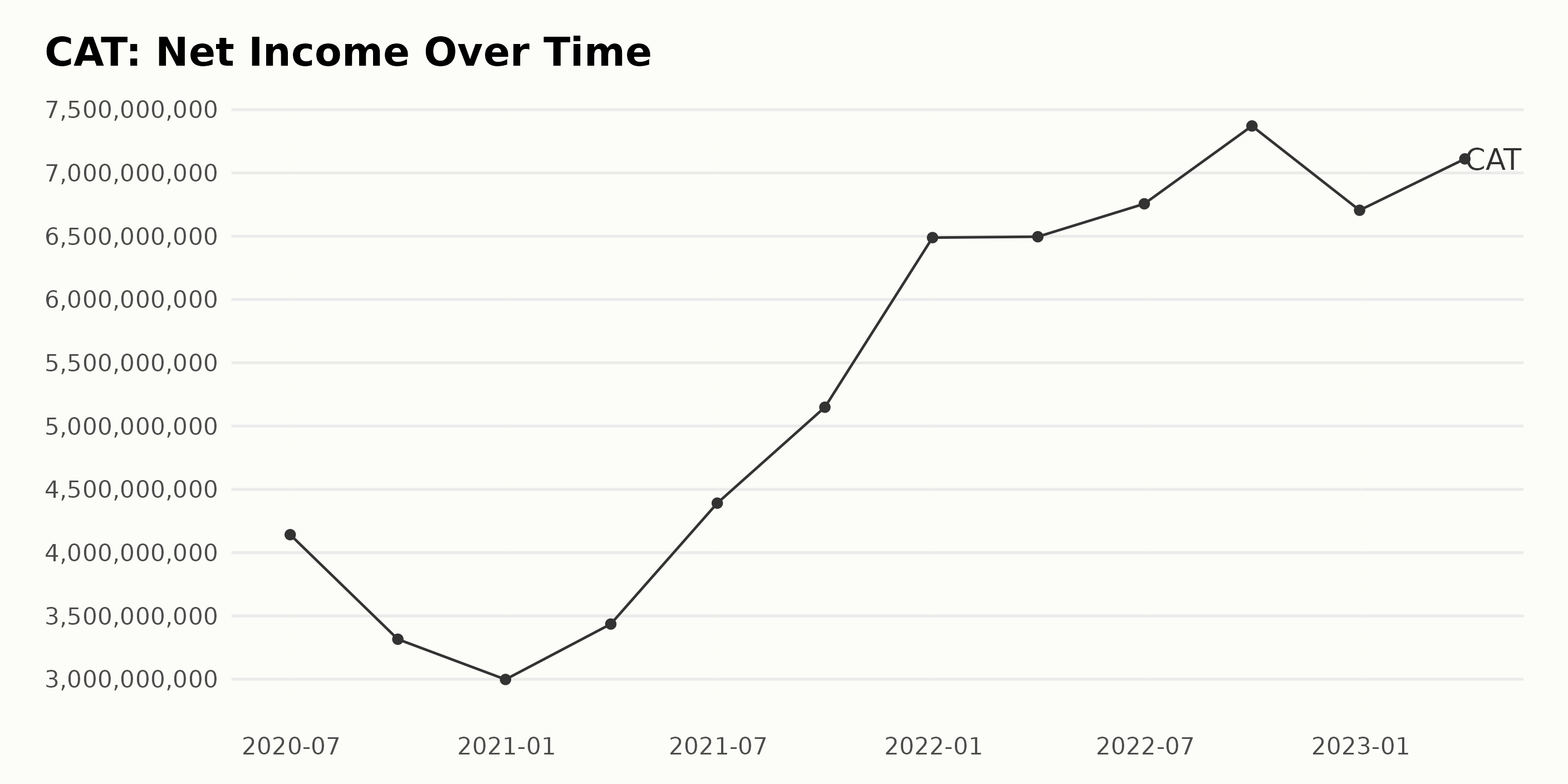 CAT's revenue has shown an overall increasing trend over the past few years, fluctuating between $41.7 billion (December 2020) and $59.4 billion (December 2022). There has been an 11.8% growth rate between the first and last value, $46.5 billion (June 2020) and $61.7 billion (March 2023).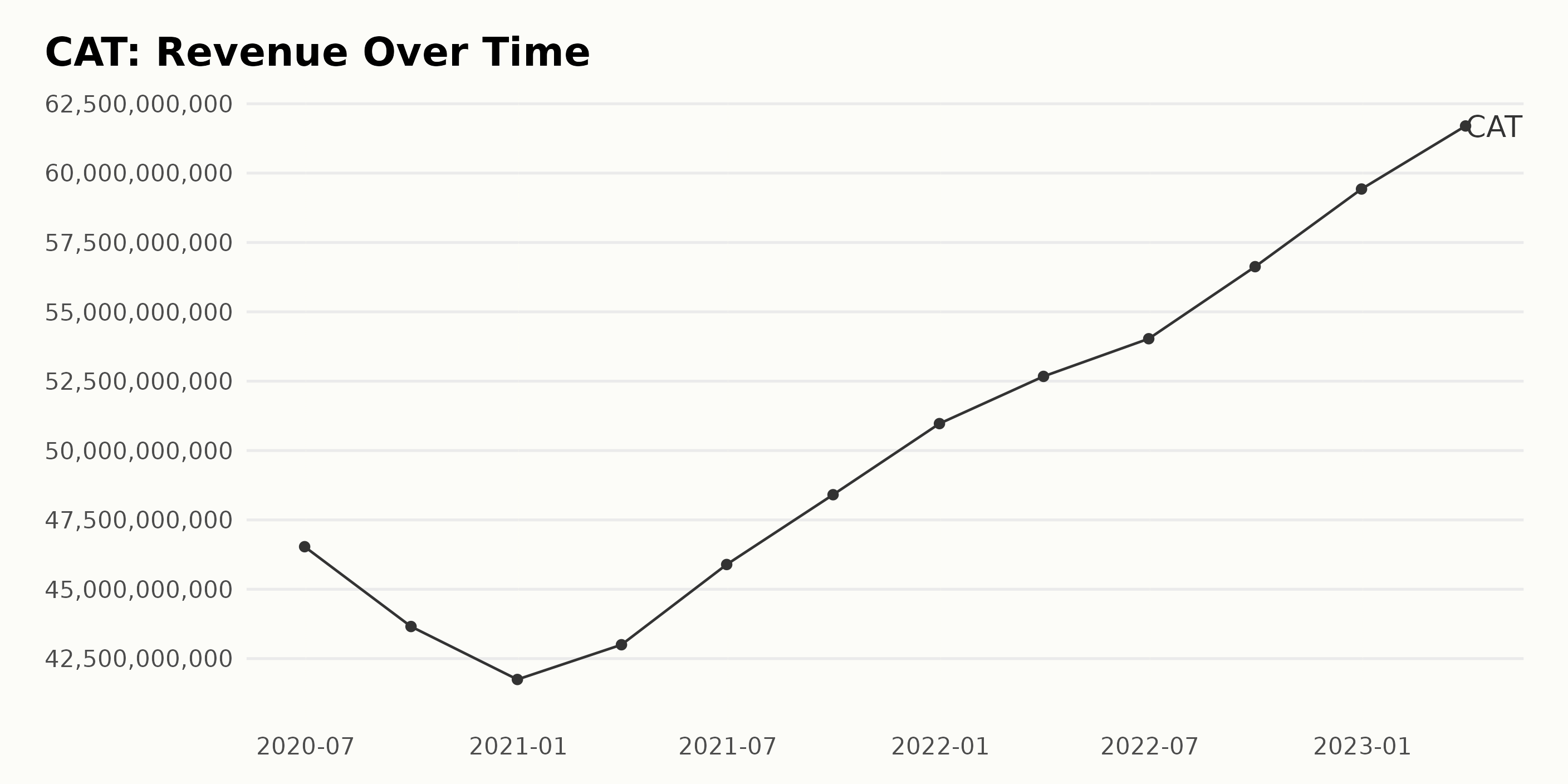 The dividend per share (DPS) of CAT had a steady increase over the years with fluctuations of little or no change. The DPS started at $4.12 on June 30, 2020, and ended at $4.80 on March 31, 2023, representing a growth rate of 17%.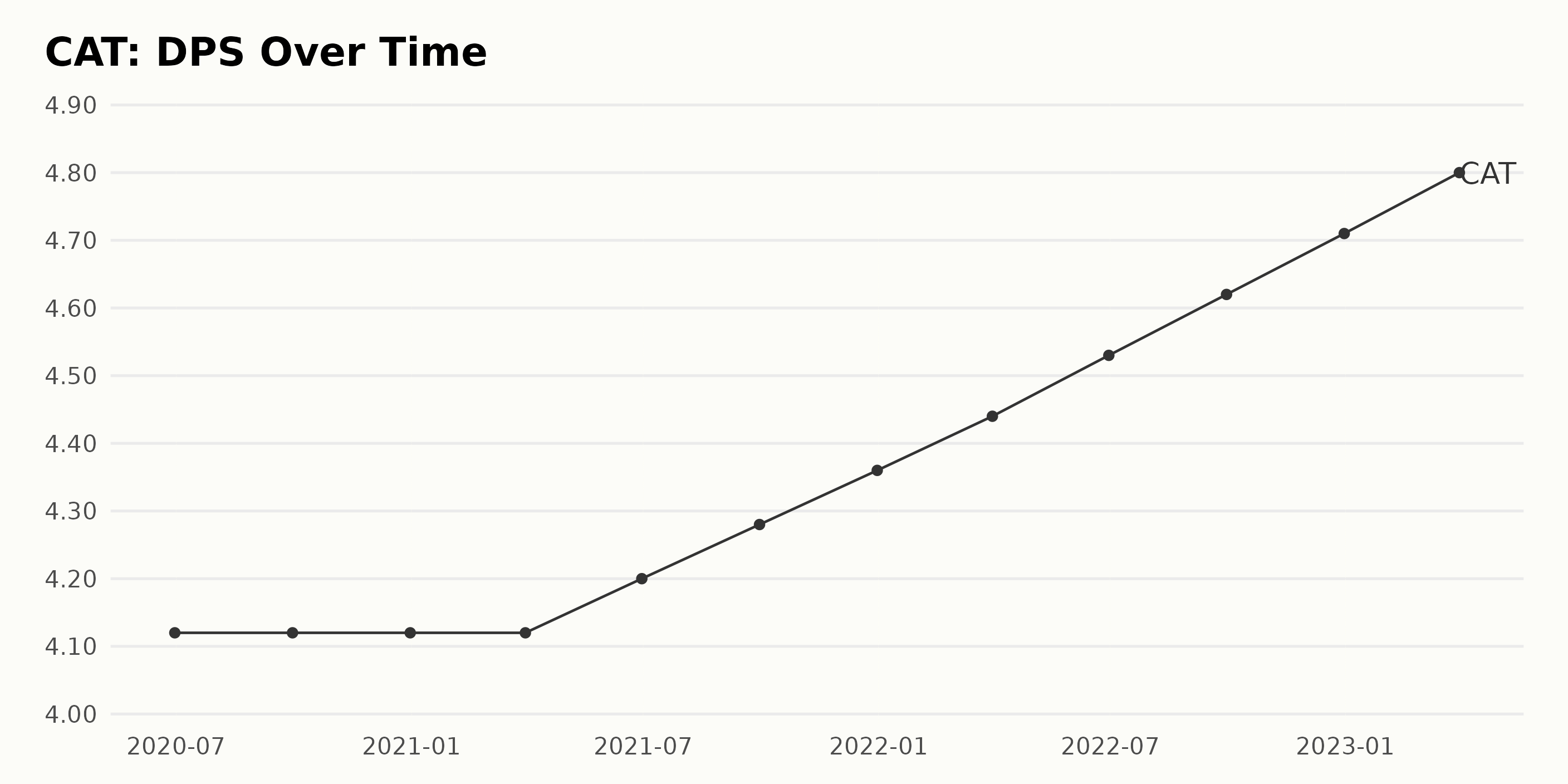 CAT Share Price Shows a Decline
CAT's share price trend is generally decreasing from November 18, 2022, at $232.84 to May 10, 2023, at $213.81. The growth rate was pretty steady from November 18, 2022, to late January 2023 but experienced a sharp deceleration from the last week of January to the first week of May, with the share price decreasing by over $19.00. Here is a chart of CAT's price over the past 180 days.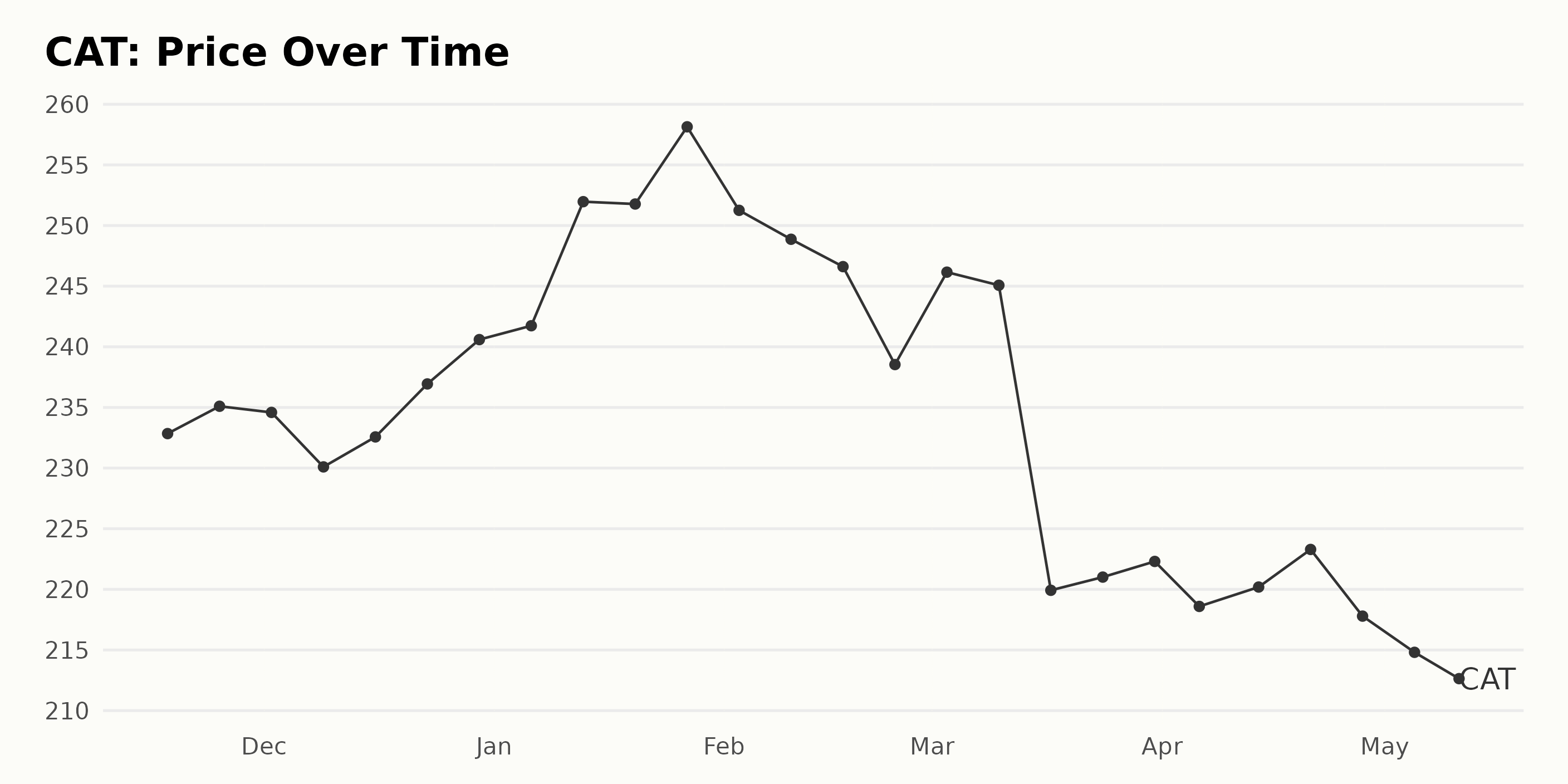 POWR Ratings: Sentiment, Growth & Value
CAT has an A rating, translating to a Strong Buy in our POWR Ratings system. It is ranked #9 out of 78 stocks in the Industrial - Machinery category.
The three most noteworthy dimensions of CAT are Sentiment, Growth, and Value, which have received the highest ratings. Sentiment had the highest score of 91 in November 2022, dropped to 82 in December 2022, and then rose to 83 in January 2023. Growth scored 60 in November 2022, dropped to 59 in December 2022, and then rose to 79 in February 2023 before peaking at 82 in March 2023. Lastly, Value scored 68 in November 2022, decreased to 65 in December 2022, and reached a low of 62 in January 2023 before increasing to 80 in May 2023.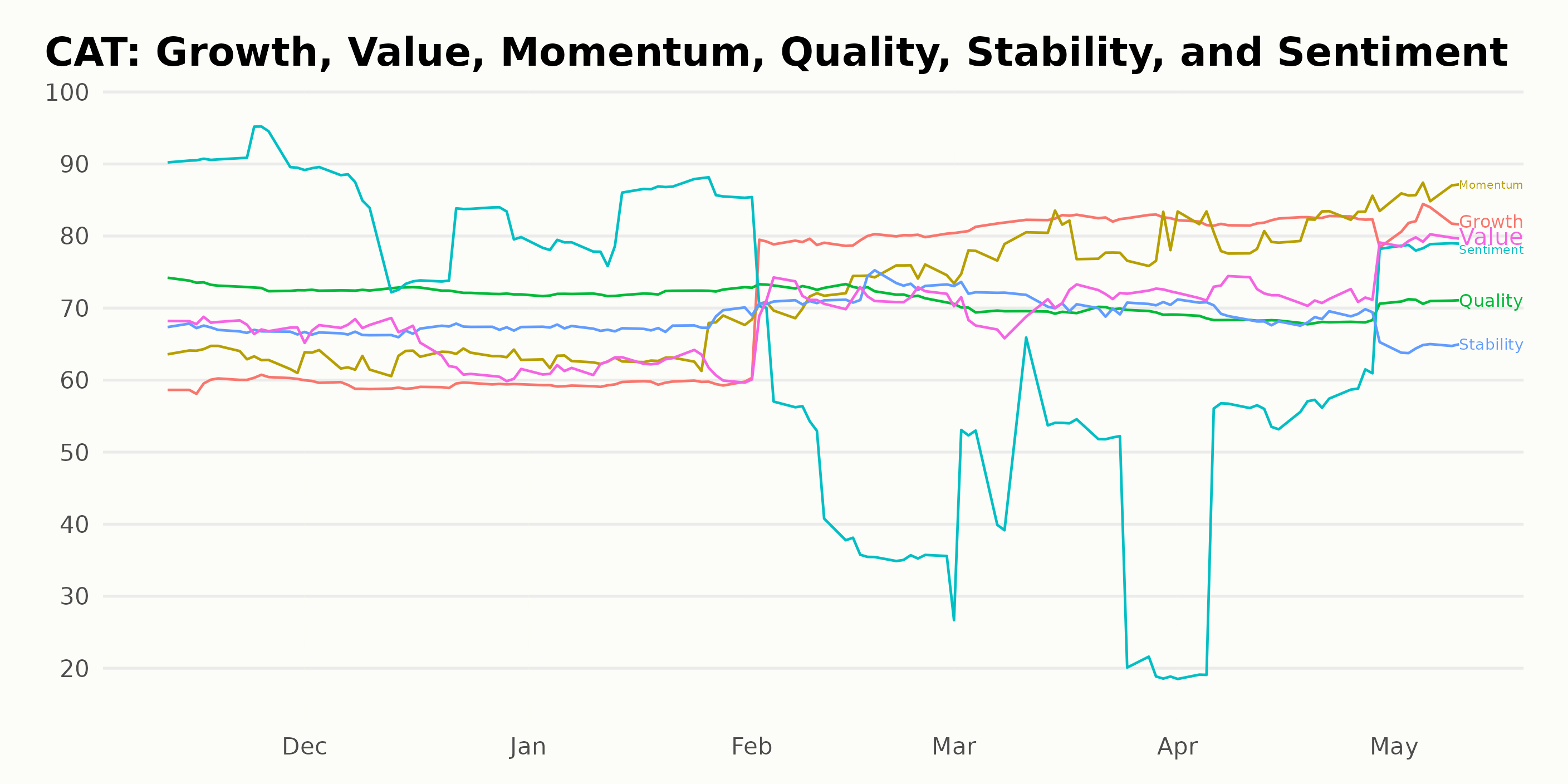 How does Caterpillar Inc. (CAT) Stack Up Against its Peers?
Other stocks in the Industrial - Machinery sector that may be worth considering are ABB Ltd (ABB), Tennant Company (TNC), and Powell Industries Inc. (POWL). These stocks are also rated A.
Discover 10 widely held stocks that our proprietary model shows have tremendous downside potential. Please make sure none of these "death trap" stocks are lurking in your portfolio:
---
CAT shares were trading at $208.78 per share on Thursday morning, down $4.39 (-2.06%). Year-to-date, CAT has declined -11.96%, versus a 8.04% rise in the benchmark S&P 500 index during the same period.
---
About the Author: Subhasree Kar
Subhasree's keen interest in financial instruments led her to pursue a career as an investment analyst. After earning a Master's degree in Economics, she gained knowledge of equity research and portfolio management at Finlatics.
Best Industrial Stock to Buy for Summer 2023
appeared first on
StockNews.com