Leading healthcare company McKesson's (MCK) stock looks undervalued at its current price and could be an excellent pick for value investors. Let's look at some of MCK's key metrics...
Investing in healthcare companies, such as McKesson Corporation (MCK), is a smart move in the face of high inflation and other macroeconomic woes due to inelastic demand for their products and services. MCK has defied the bear market over the past year, supported by its solid fundamentals.
In terms of non-GAAP Price/Earnings (PE), the stock is currently trading at 14.14x, 28.5% lower than the industry average of 19.77x. The company's 1.12x non-GAAP Price/Earnings-to-Growth PEG is 46.8% lower than the industry average of 2.11x. The stock trading at a discount to its peers could be a wise investment now.
Let's look at MCK's key metrics to assess its potential for further gains.
Tracking McKesson Corporation's Performance since June 2020
MCK's net income significantly decreased from June 2020 ($921 million) to September 2021 (negative $4.81 billion). However, from September 2021 to December 2022 ($3.14 billion), the net income increased substantially by $7.95 billion. The growth rate for this period was 781.3%.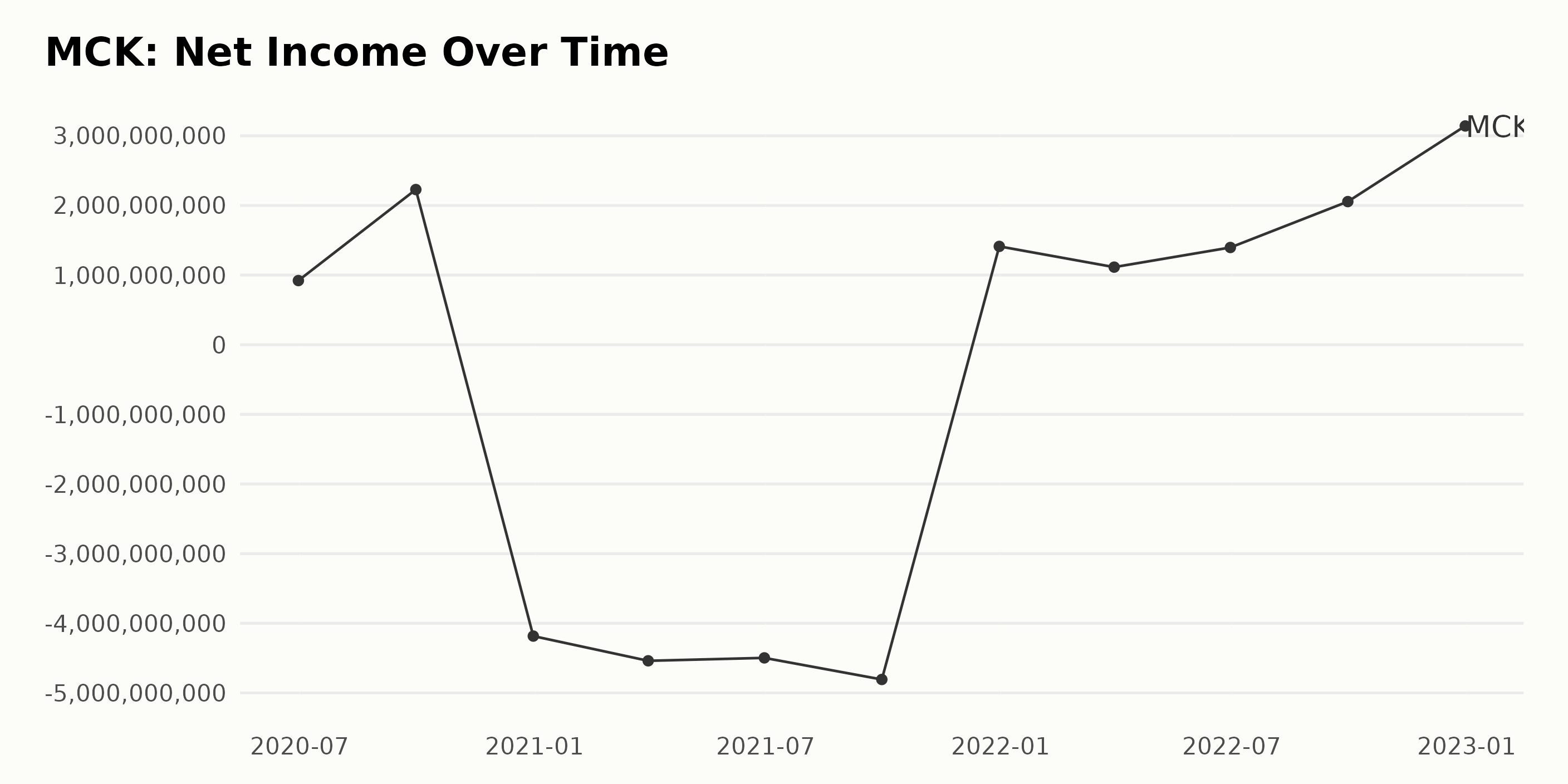 MCK has seen steady growth in its revenues between June 30, 2020, and December 31, 2022. The company's revenue grew from $23.1 billion to $27.4 billion, providing a growth rate of 18%, with only minor fluctuations.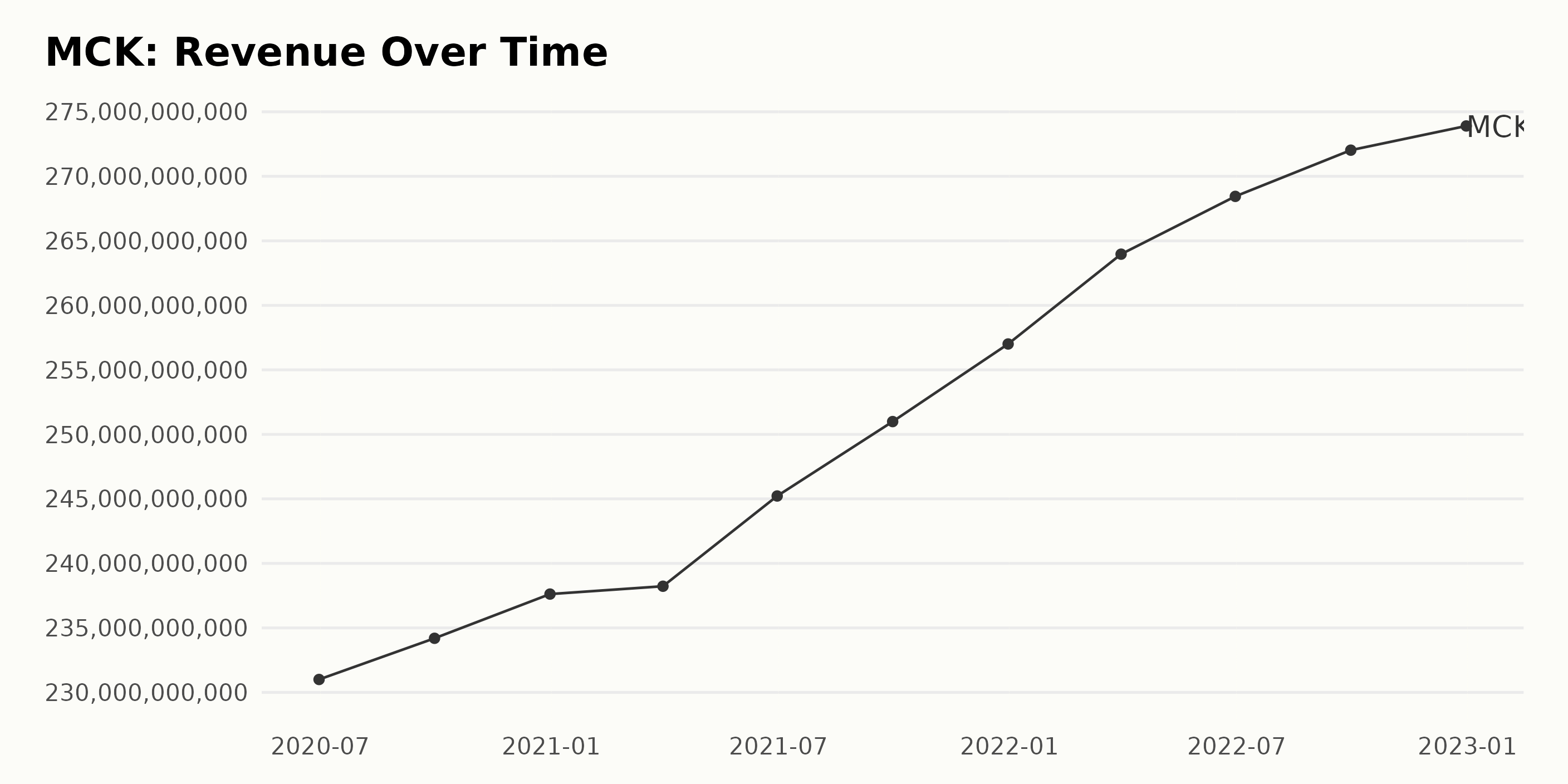 MCK's DPS has seen an upward trend since June 2020, with a growth rate 23%. The latest DPS of $2.02 was reported in December 2022, with fluctuations around this figure--from a low of $1.88 in June 2022 to $2.15 in September 2021.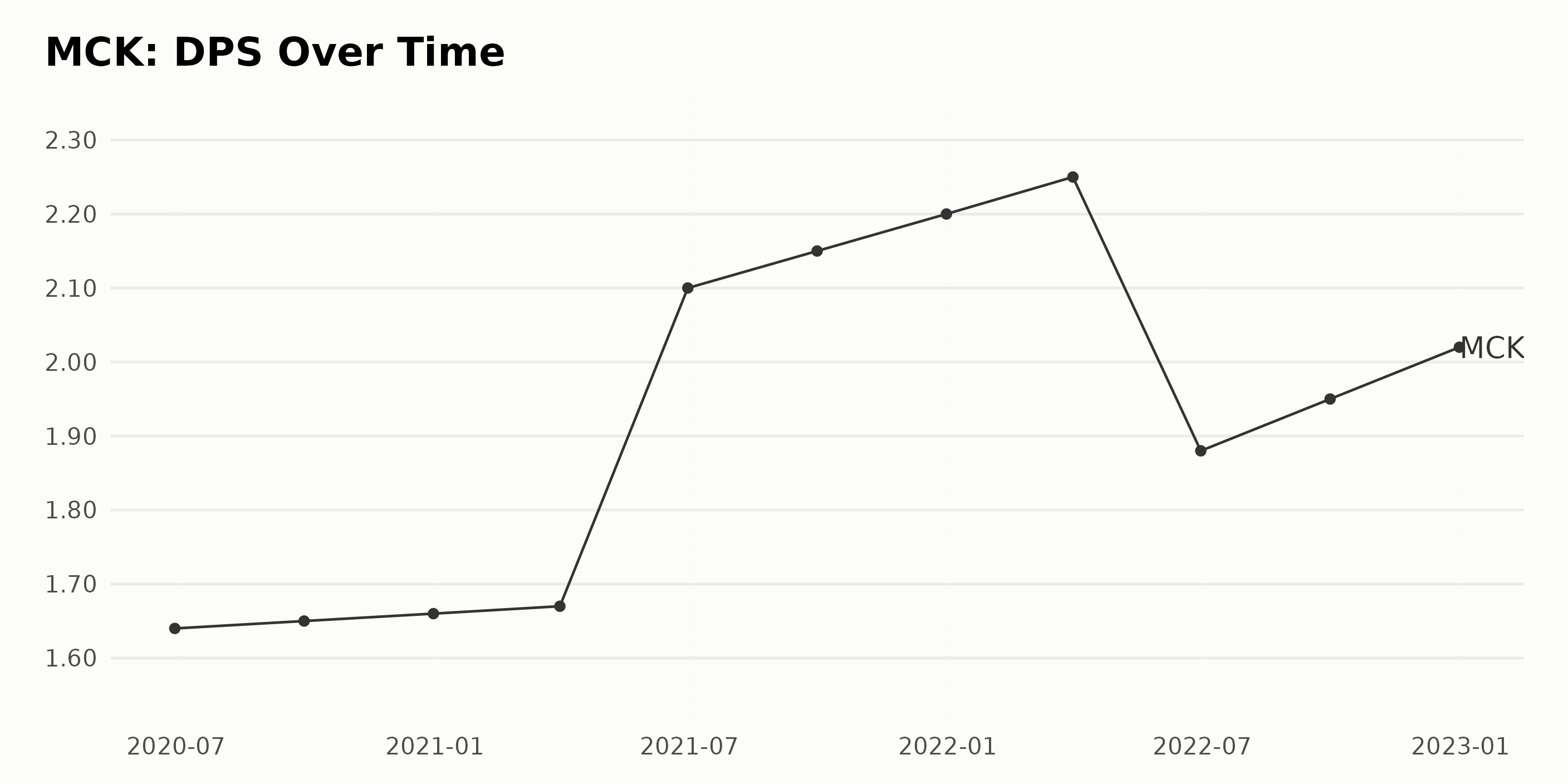 The Price/Earnings Ratio (PE) of MCK has seen significant fluctuations from June 2020 to December 2022. The PE ratio was 28.16 at the end of June 2020, dropped to a low of negative 6.87 at the end of December 2020, rebounded to a high of 42.60 at the end of March 2022, and had a value of 16.17 at the end of December 2022. Overall, the PE ratio decreased by at a rate of 43.3%.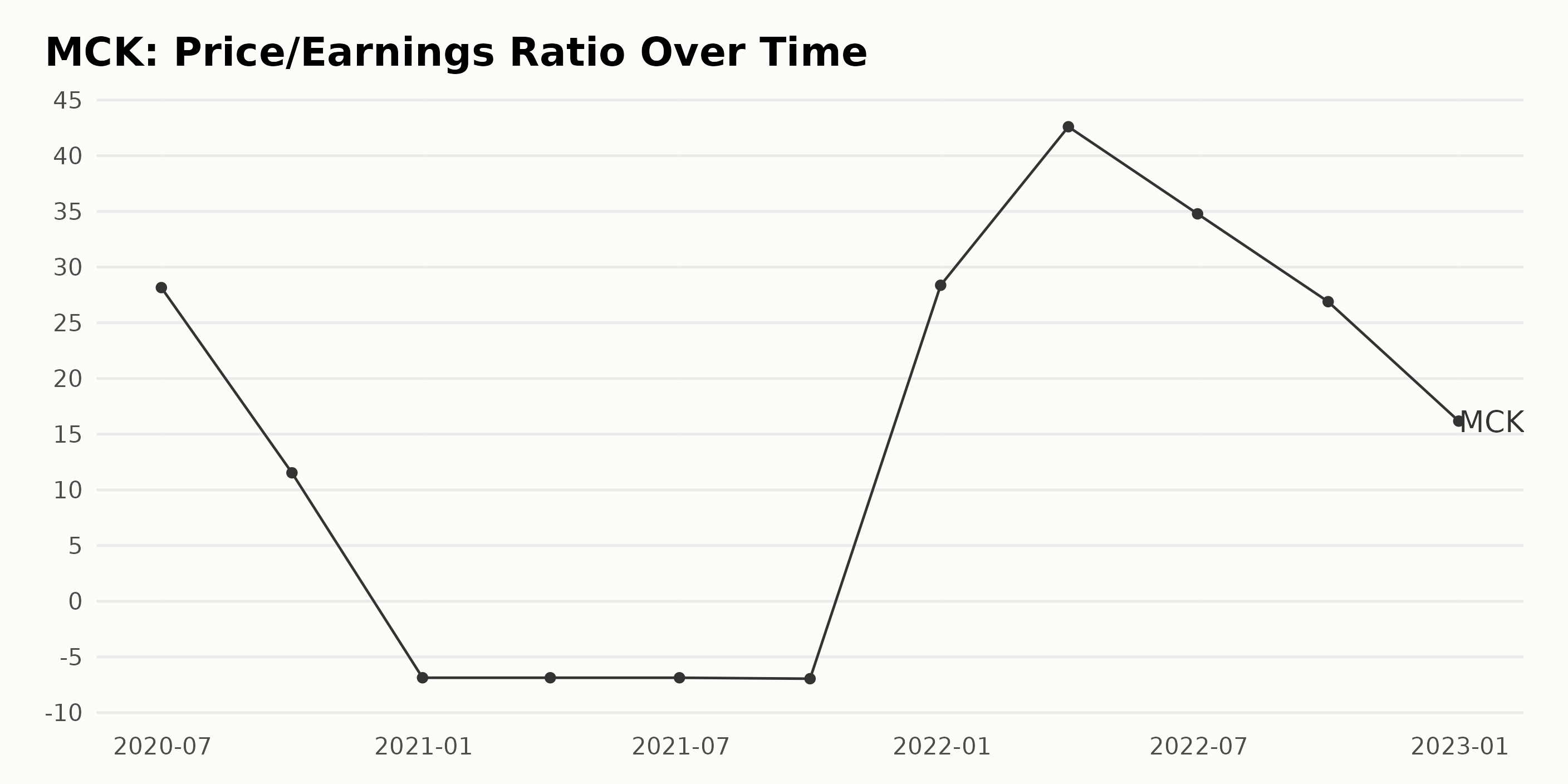 MCK Share Price Plummets 6.3% in 5 Months
MCK's share price decreased from $371.25 on November 11, 2022, to $358.30 on May 5, 2023. The growth rate has been decreasing gradually, with the biggest drop between February 24 ($361.12) and March 17 ($337.13), representing a 6.3% decrease. Here is a chart of MCK's price over the past 180 days.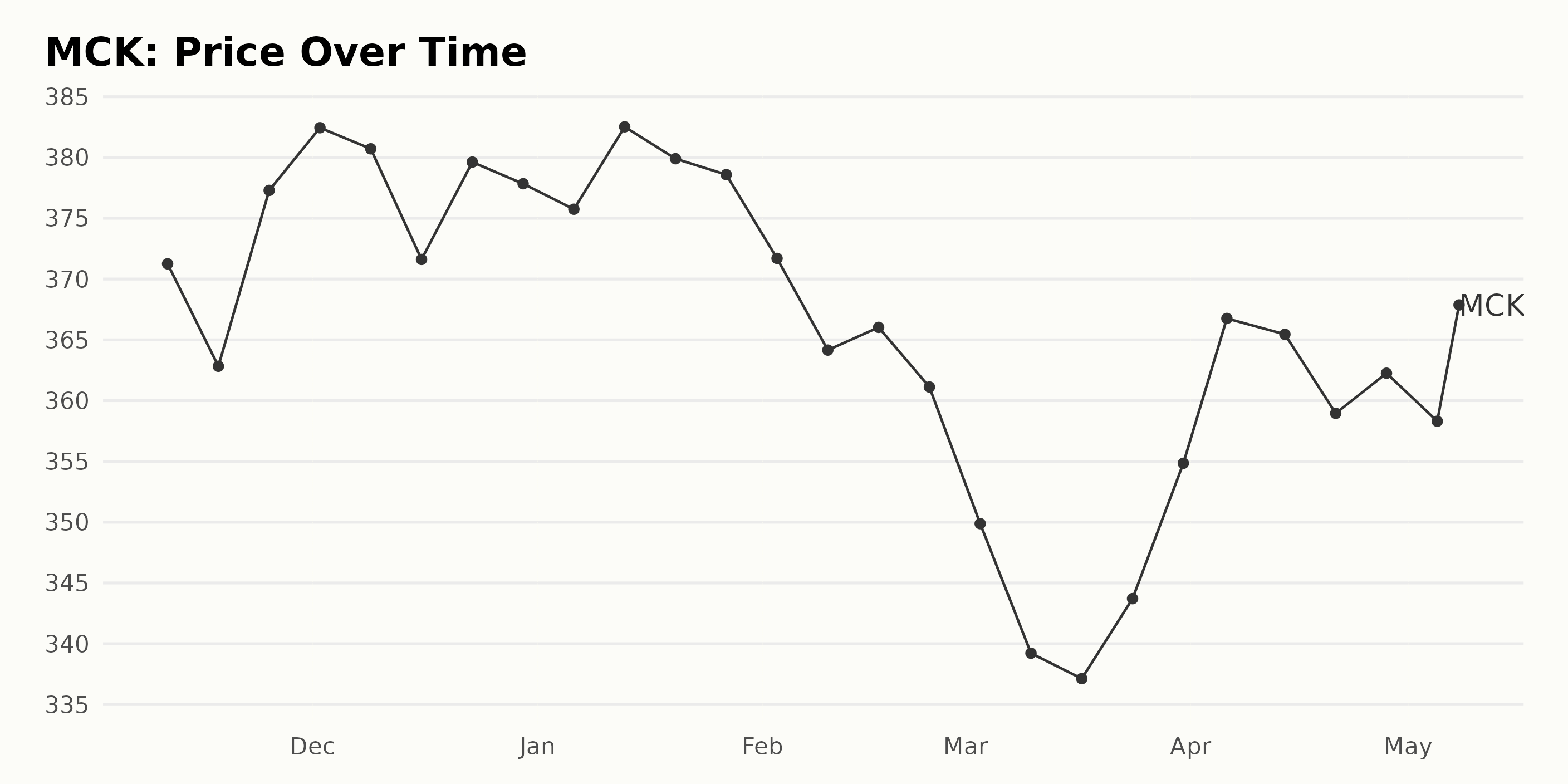 McKesson Corporation: High Growth & Value Ratings and Steady Momentum
MCK has an overall A rating, translating to a Strong Buy in our POWR Ratings system. It has consistently been an A-rated stock over the past eight months. This grade makes MCK the highest-rated stock in its Medical - Services category, as it has been ranked first in the group for all of that time span save for one week, where it was ranked second out of the 76 stocks.
The POWR Ratings for MCK across six dimensions show that the Growth dimension has consistently held the highest rating, at 99. The Value dimension also has a high rating throughout, remaining at 93. Momentum is the third most noteworthy dimension, with its ratings having a slight upward trend of 39 in November 2022, 41 in December, 42 in January 2023, 47 in February, 50 in March, 48 in April, and 45 in May. Overall, it appears that MCK has excellent Growth and Value ratings and a positive Momentum trend.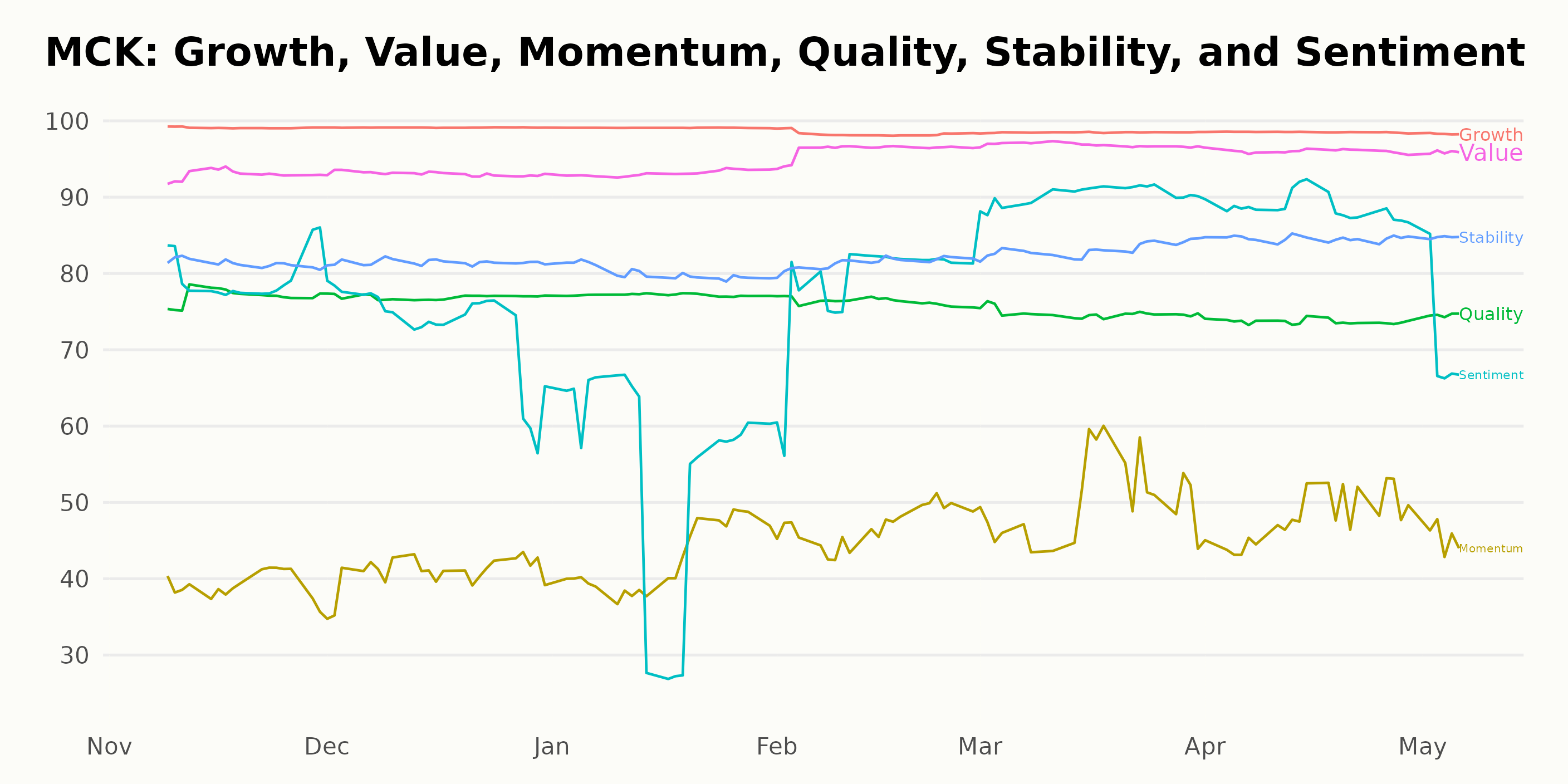 How does McKesson Corporation (MCK) Stack Up Against its Peers?
Other stocks in the Medical - Services sector that may be worth considering are Cardinal Health Inc. (CAH), AmerisourceBergen Corporation (ABC), with an A (Strong Buy) rating, and Sinopharm Group Co. Ltd. (SHTDY) with a B (Buy) rating.
Discover 10 widely held stocks that our proprietary model shows have tremendous downside potential. Please make sure none of these "death trap" stocks are lurking in your portfolio:
---
MCK shares were trading at $368.33 per share on Monday afternoon, up $2.46 (+0.67%). Year-to-date, MCK has declined -1.66%, versus a 8.22% rise in the benchmark S&P 500 index during the same period.
---
About the Author: Subhasree Kar
Subhasree's keen interest in financial instruments led her to pursue a career as an investment analyst. After earning a Master's degree in Economics, she gained knowledge of equity research and portfolio management at Finlatics.
No. 1 Undervalued Stock in May
appeared first on
StockNews.com