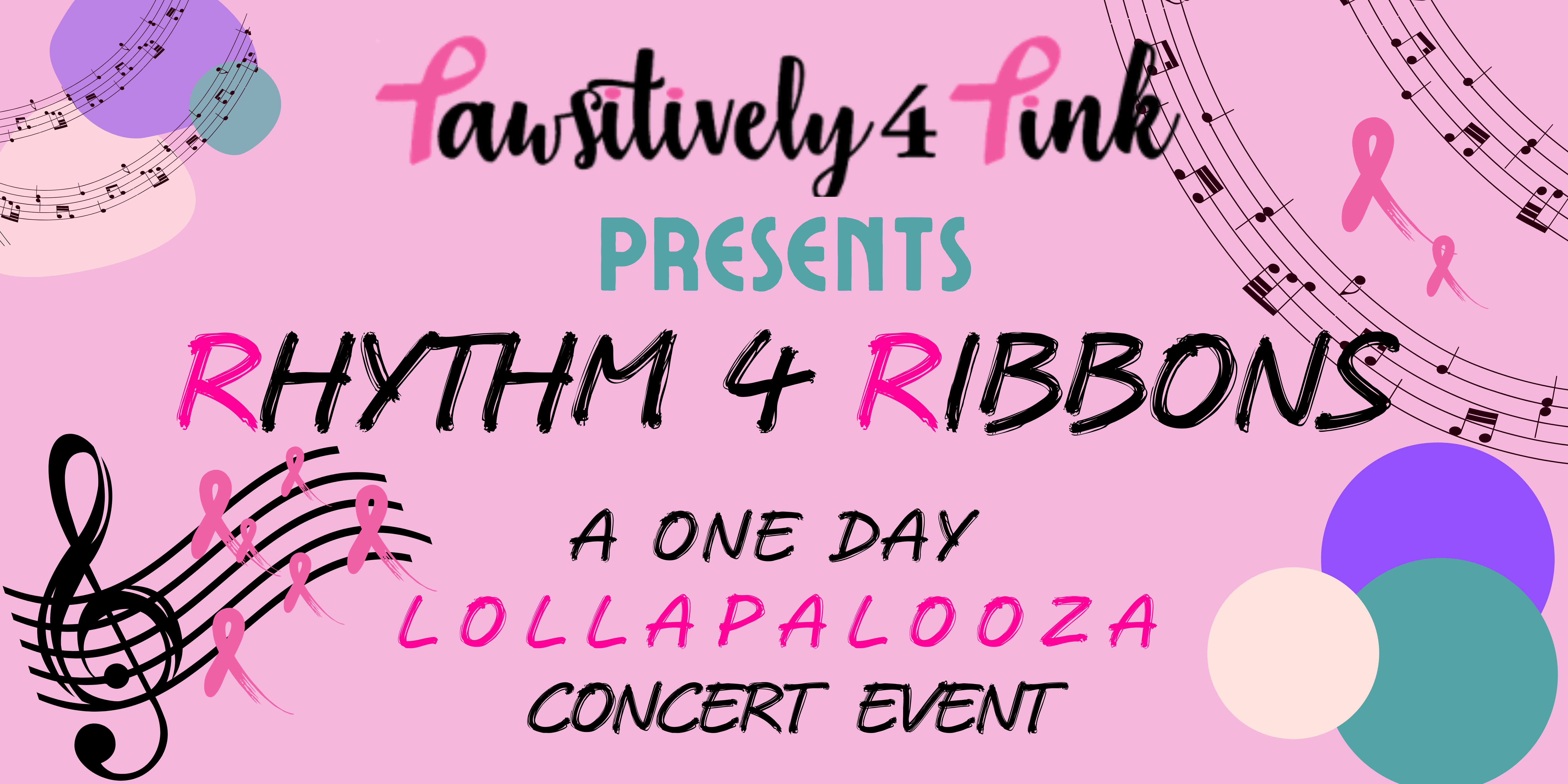 A recent recipient had this to say about Pawsitively 4 Pink:

"What an incredible gift and relief it has been to have your financial support! I am now able to pursue the treatment that is best suited for me, and I am profoundly grateful."
- Liz M
WORCESTER, Mass. - October 12, 2022 - Pawsitively 4 Pink is holding a one-day Lollapalooza "Rhythm 4 Ribbons" Concert  to support low-income women with breast cancer on Saturday, October 22, 2022, at Polar Park Stadium in Worcester MA, from 12-8 P.M.

They are equally excited to share the major sponsors for this event are Hannoush Jewelers, Tony Hannoush and Amy Gallant located at 344 Russell Street, Hadley Ma, Emily's Interiors, owner Joseph Kupstas, located at 621 Main Street, Shrewsbury MA.
Pawsitively 4 Pink has put together a deep and successful set of performers that will keep you rockin all night long.
Performer Alisan Porter graced the big screen as the curly-haired, pint-sized orphan. Now, with her win on The Voice, the emotional singer has moved on from "former child star" to singing sensation.
Also performing is Ricky Duran garnered international attention with his soulful vocals, fiery guitar playing and compelling performances on NBC's The Voice.
After gaining popularity from 'The Voice,' Kadan Kadan is proving that she is a cross between Elton John and Aretha Franklin, a total powerhouse.
Ashley Jordan is a seasoned live performer who has played to crowds as large as 40,000 opening for everyone from Trace Adkins to The Beach Boys, to Billboard Chart hit-maker Jimmie Allen, to the legendary Charlie Daniels Band.
There are several more local bands such as On the Rocks, Ball in the House, Dave Macklin Band and The Country Wild Heart band that are sure to keep the night roling!
Comedian Tom Cotter from America's Got Talent, Jen Carter and Mckenzie Goodwin of WXLO Radio will be emceeing this blockbuster event.
Pawsitively 4 Pink is a nonprofit organization that provides financial assistance for low-income, underserved women who have been diagnosed with breast cancer in Massachusetts for up to six months after treatment, regardless of their choice of holistic or traditional therapy.
Founded in 2018, Pawsitively 4 Pink aims to alleviate the financial obstacles that women face on their journey back to health and healing. Many patients with this diagnosis are forced to stop living their normal life, living instead with chemotherapy, surgery, radiotherapy, and CAT scans. This new world is often met  with anxiety, depression, and fear, compounded by the inability to meet one's own human needs.
Since the very beginning, Pawsitively 4 Pink has been passionate about really changing the lives of low-income women diagnosed with breast cancer. We believe the most powerful way to do this is to involve women and their families in a conversation around what they see as their greatest needs. This empowers them to make life-sustaining decisions for their families during one of the most unsettling times of their lives. Our approach has proven to be the most effective and impactful method of support to the women that we serve.
Michelle has always drawn inspiration from What Dr. King called life's most persistent and urgent question: "What are you doing for others?" Let's honor his legacy by standing up for what is right in our communities and taking steps to make a positive impact on the world.
Media Contact
Company Name: Pawsitively 4 Pink
Contact Person: Michelle Power
Email: Send Email
Phone: 774-696-0203
Address:453A Lake Ave
City: Worcester
State: MA
Country: United States
Website: Https://www.Pawsitively4Pink.org