Enhanced capabilities further align all project teams to ensure safety, quality, and efficiency on the job site.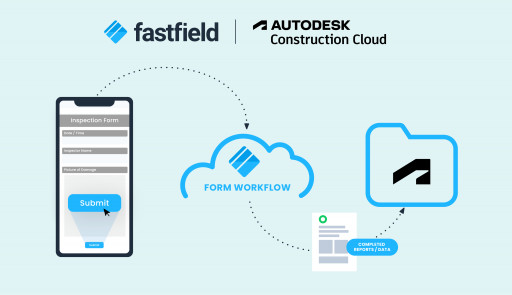 FastField Announces New Integration With Autodesk Construction Cloud\u00ae

FastField's new integration allows for automated delivery of completed form data from FastField's workflow engine directly to Autodesk Construction Cloud's system.

SAN CLEMENTE, Calif. - October 6, 2022 - (Newswire.com)


FastField, a longstanding provider of digital forms and workflow management software to thousands of firms in the construction and engineering industry, today announced an integration with Autodesk Construction Cloud®, a portfolio of software and services that combines advanced technology, a builders network and predictive insights for construction teams, to further align project teams across the field, trailer and office. With the new release of FastField's "Global Workflow," construction teams have automated multi-step form approvals, notifications issued to key stakeholders, dynamic workflow logic configured across all forms, and data delivery to many different third-party systems. The integration of Autodesk Construction Cloud and FastField affords project managers the ability to automatically export reports and data collected within FastField to Autodesk® Build, Autodesk® Docs, or BIM 360®.

The new integrations will enable:

- Automatic delivery of field inspection results to Autodesk Build, Autodesk Docs, or BIM 360.

- Consolidation of project reports and data into Autodesk Construction Cloud.

- Proof of completeness of a project by keeping the documentation for a specific job site in the related project folder.

- Delivery of data from various types of forms:
Inspections (including building, OSHA, safety, vehicle, machine or equipment).
Checklists (including safety, quality control, and punch lists).
"We're excited to announce our new integrations with Autodesk. The combination of FastField's robust form and workflow automation system and Autodesk's powerful construction management platform provides a seamless end-to-end data collection, reporting, and construction management solution," said Jeff Stay, President of FastField. "This will further align the field and office to strengthen documentation of a project through verified data while ensuring safety, quality, and efficiency on the job site."

"Making informed decisions in construction based on current and accurate data requires access to the full document record set," said James Cook, director, partner integrations at Autodesk Construction Solutions. "Integrating inspection reports and data captured in FastField into Autodesk Construction Cloud centralizes yet another key set of information in the system builders trust, ensuring the teams in the field, the trailer, and the office can access and incorporate those documents in their processes and workflows."

About FastField

FastField is a leader in digital forms, workflow automation and business analytics. We provide a robust and flexible web platform and mobile app to connect your field staff with the back office. FastField ensures quality, safety, compliance and efficiency throughout your business operations without the need for software development resources. From dynamic data collection and analytics to proactive alerts and automated workflows, we provide a complete solution for business processes. 

Autodesk, Autodesk Build, Autodesk Docs, Autodesk Construction Cloud, and BIM 360 are registered trademarks or trademarks of Autodesk, Inc., in the USA and/or other countries. All other brand names, product names, or trademarks belong to their respective holders.


Contact Information:
Alissa McCawley
Marketing Manager
amccawley@fastfieldforms.com
(949) 234-6248


Press Release Service by Newswire.com

Original Source: Merge Mobile, Inc. Announces FastField Mobile Forms Integration With Autodesk Construction Cloud to Bolster Documentation Across the Field, Trailer, and Office