Laser systems maker Coherent Co. (NASDAQ: COHR) changed its name from II-VI, confusing investors even trying to pronounce the name. The company is undergoing a multi-year restructuring plan to simplify its business model, just like it simplified its name. Coherent's primary business is the production of lasers and laser-based systems for engineered materials and components used in the semiconductor, networking, and optoelectrical industries.
Lasers are an inherent piece of the digital communication infrastructure. Computer chips require cutting and scribing semiconductor wafers and lasers to etch microscopic integrated circuits (lithography). The company also operates a Materials business that provides engineered materials and optical coatings for industrial, life sciences, manufacturing and technology clients.
Coherent established a multi-year restructuring program. The company competes with Cisco Systems Inc. (NASDAQ: CSCO), Lumentum Holdings Inc. (NASDAQ: LITE) and IPG Photonics Co. (NYSE: IPIP).
AI Driving Higher Bandwidth Demand
High-speed internet is only possible by transmitting data through optical fibers using lasers. Lasers convert binary data into light signals that instantly travel through the optical fiber over long distances to their destination. Through their Finisar division, they are a leading maker of optical network transceivers, which convert electrical signals into optical signals. Its 800G optical modules will see growing demand as artificial intelligence (AI) and machine learning (ML) deployment require more bandwidth. Broadcom Inc. (NASDAQ: AVGO) is seeing a spike in its ethernet switches from deploying generative AI.
Falling Short of Analyst Expectations
On May 10, 2023, Coherent released its fiscal third-quarter 2023 results for March 2023. The company reported an earnings-per-share (EPS) profit of $0.58 versus $0.82 consensus analyst estimates, a ($0.24 miss). GAAP EPS was ($0.24). Revenues rose 50% year-over-year (YoY) to $1.24 billion, falling short of analyst estimates of $1.33 billion. Organic revenue growth was 6% YoY.
Unexpected Delay in Networking Segment
Coherent CEO Vincent Materra Jr. commented, "We started the third quarter with optimism based on a strong backlog, but we experienced a sudden and unexpected deceleration in revenues in the second half of the quarter when some of our larger customers requested us to delay scheduled shipments which primarily affected our revenue in the Networking Segment as those customers began adjusting their inventory levels.
" He stated that its Materials and Lasers Segment was solid and helped offset the slump in its Networking segment. The company invested $97 million of its cap ex into its silicon carbide business. The company retired $78 million of debt and generated $55 million of free cash flow.
Multi-Year Restructuring
The company has commenced restructuring actions that will run through the end of fiscal 2025. The plan includes site consolidations, facilities closures, relocations and re-qualifications. Cost reductions are primarily focused on transforming Coherent into a simpler, more streamlined and sustainable business.
The company expects a $150 million to $200 million charge for facility consolidations and workforce reductions. About $75 million to $100 million will stem from severance and benefits expected. Non-cash impairment charges are expected between $75 million to $100 million for production assets and improvement of lease facilities. Coherent expects the restructuring to be completed by the end of fiscal 2025. CEO Materra believes it will drive greater scale, focus and lower operating costs. 
Lowering the Bar Low
Coherent lowered its fiscal Q4 2023 EPS to $0.33 to $0.43 versus $0.86 consensus analyst estimates. It expected Q4 2023 revenues between $1.125 to $1.175 billion versus $1.34 analyst estimates.
Analyst Downgrades
Coherent shares tumbled (12%) on June 21, 2023, after CEO Materra disclosed that he sold approximately $1.5 million in a filing. That same day Rosenblatt Securities cut its rating on shares of Coherent to Neutral from Buy but raised its price target to $55 for $41. On June 28, 2023, B.Riley downgraded their rating on Coherent shares to Neutral from Buy with a $47 price target.
Coherent analyst ratings and price targets are at MarketBeat.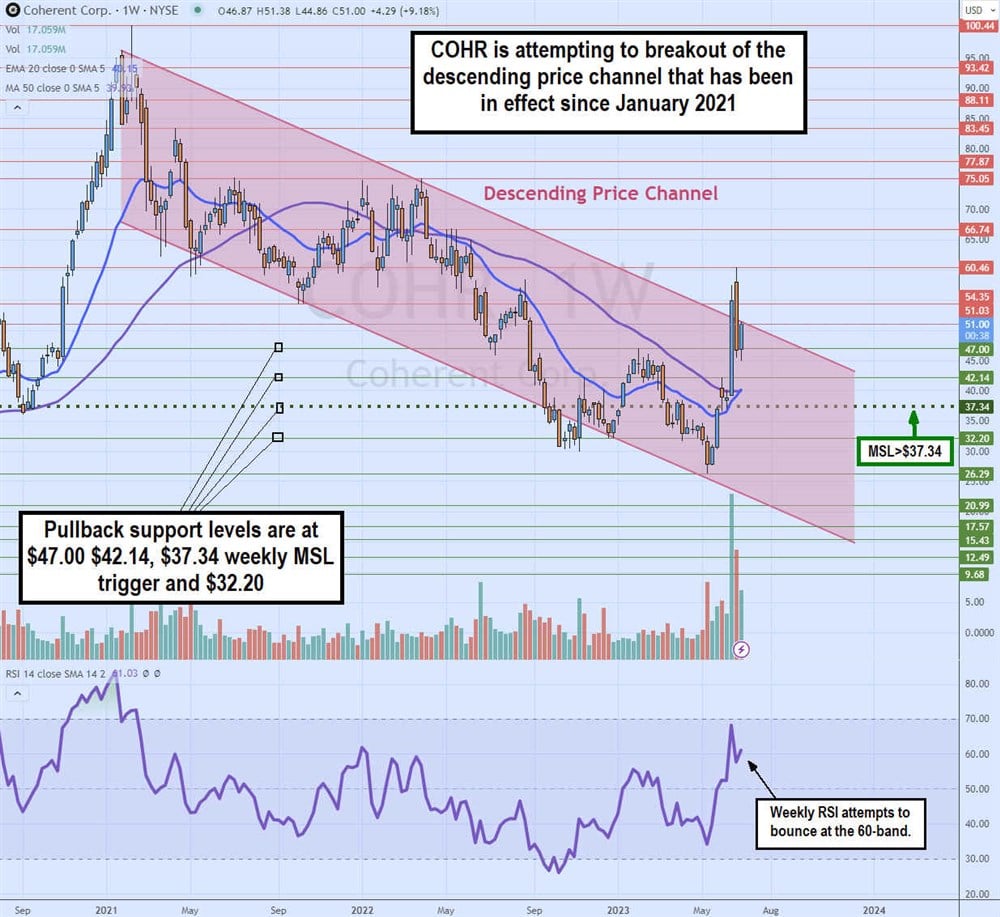 The definitive beginner's guide to reading stock charts can be found free on Marketbeat.
Descending Price Channel Breakout Attempt
The weekly candlestick chart for COHR has been in a descending price channel since January 2021, as it peaked at $100.44 in February and proceeded to sell off for over two years. A parallel falling price channel comprised lower highs on rallies and lower sell-offs capitulated at lows of $26.29 in May 2023.
COHR formed a weekly market structure low (MSL) breakout through the $37.34 trigger on heavy volume driving shares to a high of $60.46 in June 2023. It's testing the descending upper trendline at $51.03 to break out. The weekly RSI peaked at the 70-band but is attempting to bounce back off the 60-band. Pullback support levels are $47.00, $42.14, $37.34 weekly MSL trigger and $32.20.