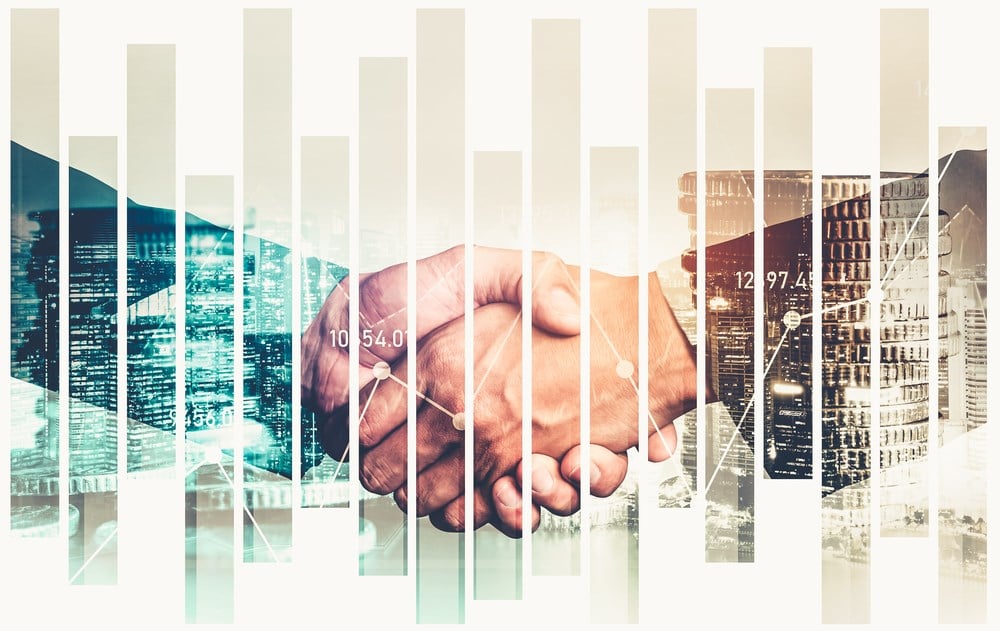 On March 10, 2023, the world woke up to a big problem. One of the nation's largest banks, Silicon Valley Bank had failed, bringing a sobering realization: most banks are sitting on massive unrealized losses in their loan books and securities portfolios.
While these losses were only the proverbial fuse that ignited the bank run on SVB, the fact remains that some banks didn't prepare for the Federal Reserve to hike interest rates so quickly and loaded up on bonds or loans struck at low-interest rates, which are now considerably underwater.
The bank runs lessened in a few weeks with the help of government intervention. But the fact remains the equity of some banks would be wiped out if their assets were marked to market.
Despite the deep losses, some banks still have significant residual value. Consider that First Citizens Bancshares (NASDAQ: FCNCA) bought Silicon Valley Bank after it failed. This is likely the first in a series of many regional bank acquisitions in the coming months.
As with Credit Suisse and UBS, regulators urge the most impaired banks to accept acquisition offers. Two such banks stick out as potential targets, First Republic Bank (NYSE: FRC) and Western Alliance (NYSE: WAL). With both banks reporting earnings in the next few weeks, it wouldn't be surprising to see a strike sooner than later.
First Republic Bank
If you speak to any customer of First Republic Bank (NYSE: FRC), you'll be greeted with rave reviews. FRC's level of boutique service is nearly unmatched. Hedge fund manager Chris DeMuth Jr. recently said that he's had an over-the-moon experience banking with First Republic, the bank "rolls out the red carpet and they get some brilliant Ivy League person who's head and shoulders any wealth management person I've ever been in contact with."
But despite the bank's reputation for above-and-beyond service, it's become a toxic bank. It shares significant overlap with SVB's San Francisco tech industry clientele in its deposit base and loan book. As such, it, too, has been the subject of a bank run.

FRC took several actions to generate liquidity, like securing $30 billion in deposits from US megabanks and several loans from the Federal Reserve. But to many banking experts, it comes too little, too late. The bank's clients see it as unsafe and are unlikely to return, regardless of how many deals it strikes to shore up confidence.
But it's not just depositor panic due to FRC's perceived similarity to Silicon Valley Bank. According to Reuters, the bank essentially has a negative book value of between $9.4 billion and $13.5 billion.
To illustrate, FRC has a whopping $19 billion loss on its mortgage loan book alone as of its 2022 annual report.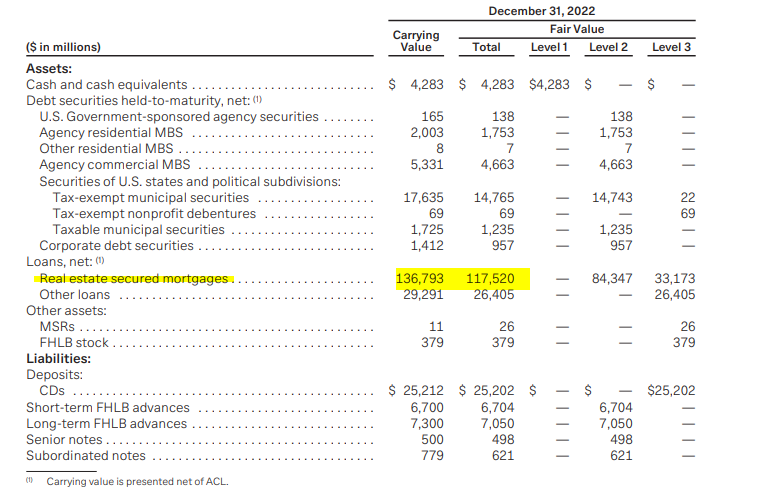 Source: First Republic Bank 2022 Annual Report
FRC has been in talks with several potential buyers, and the market is not hopeful that a deal would be above current share prices. Recall that UBS' recent acquisition of Credit Suisse was struck well below its recent share price.
As a result, shares of First Republic Bank (NYSE: FRC) have been in freefall since the Silicon Valley Bank failure, down almost 90% since the beginning of March.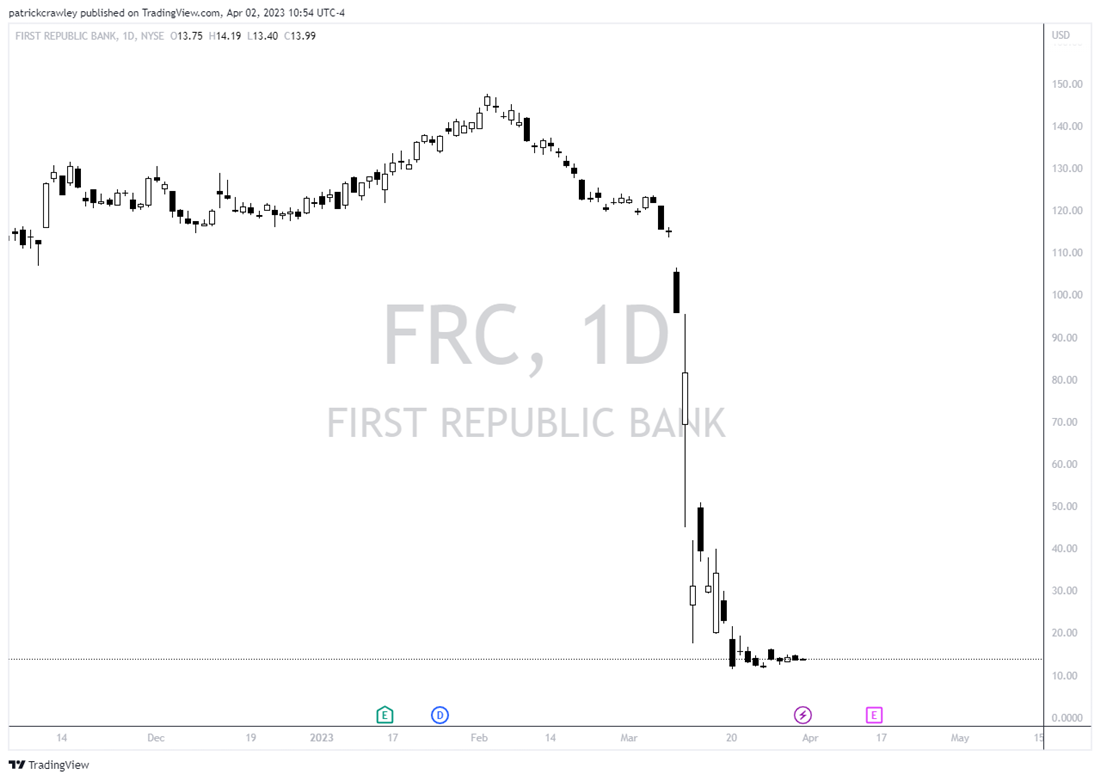 Western Alliance Bancorporation
Like First Republic, Western Alliance Bancorporation (NYSE: WAL) is another example of a seemingly excellent franchise caught out by the Fed's hiking. The bank is a hedge fund favorite and has historically traded at a rich price-to-tangible-book multiple of over 2x.
Today, that multiple is 0.8x, but bank book values are largely an illusion right now as the carrying value of assets is well above the fair market value of assets on the balance sheet. WAL, too, likely has negative book value due to deep unrealized losses on its books.
Consider Andrew Walker's analysis, noting that the $4B difference between the carrying value and fair value of the loan book, which, if marked to market, would wipe out nearly all of WAL's book value.
While it's true that many banks have considerable unrealized losses in their loan or bond portfolios, banks like WAL and FRC are the worst offenders. If there is another banking panic, they're likely the first to fail. And following the failures of SVB and Signature Bank, it's clear that the Federal Reserve is willing to let banks fail if they get over their skis.

Bottom Line
An avalanche of bank earnings reports is coming in the second half of the month, with most megabanks like JPMorgan and Citigroup reporting on Friday, April 14, followed by most regional banks later in the month. 
As the rush of news and data hitting the tape has slowed, these upcoming conference calls are likely the next catalyst for the sector, making it unlikely the sector will make a significant move unless a surprise M&A deal is struck.
With First Republic Bank (NYSE: FRC) reporting on Friday, April 14, and Western Alliance (NYSE: WAL) reporting Thursday, April 20, traders should consider that if management wants to get a deal done, they might rush to get it done before they have to make a bearish earnings release.