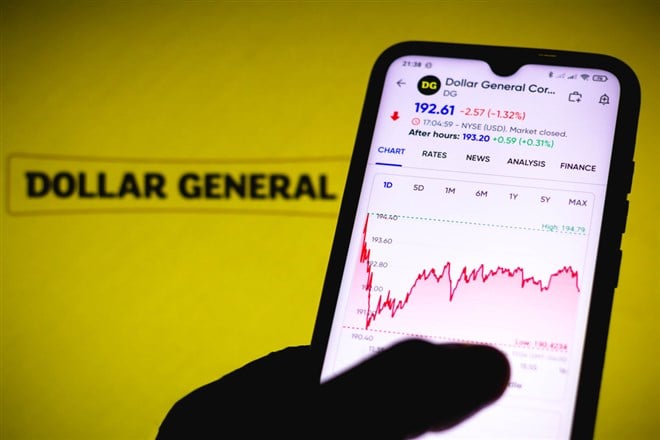 Dollar General Corporation (NYSE: DG) is down almost 2% after the company missed on the top and bottom lines in their March 16 earnings report. The report is in line with recent economic data that shows consumers are pulling back on discretionary spending as food inflation remains entrenched. With the company's stock already in a bear flag pattern before earnings, investors may want to wait for a better price before buying DG stock.   
In some ways, you could say the cake was already baked. DG stock dropped sharply in late February after the company previewed earnings. In that regard, there was nothing about the earnings report that raised new concerns. 
Same-store sales growth came in at 5.7%. The consensus expectation was for same-store sales growth of 6.6%. At that time, the company guided to lower earnings per share (EPS) expectations within a range of $2.91 to $2.96. The good news is that the company's earnings came in at the high end of that range. The bad news is that it was still below the consensus estimate for $2.97. 
A Snapshot of the Economy 
Dollar General is the nation's 16th largest retailer, and it has a loyal customer base on par with Costco Wholesale Corporation (NASDAQ: COST). But the customer profile shifts when it comes to income. According to the data analytics firm, Numerator, the average Dollar General consumer earns less than $40,000 per year.  
This segment of the economy is being hit particularly hard by inflation. And that means that when Dollar General shows weakness in discretionary areas like apparel and seasonal items, it may be more relevant to, at least, the short-term direction of the economy.  
The Shorts May be Winning for Now 
As I noted above, heading into earnings, Dollar General stock was showing a bear flag pattern. This happens when a stock price trends lower even after a sharp decline. The sharp decline for DG stock occurred after the earnings preview in February.  
But two other data points may dictate the short-term outlook for DG stock. First, short interest in DG stock is up 16% in the last month. Second, institutional ownership of the stock is over 90%. That suggests that if institutions wanted to squash the short traders, they could, but right now they're not.  
But the institutional money may be waiting for confirmation on the Federal Reserve's decision on interest rates before making a move. That could leave a window open for traders looking to short DG stock. 
Is Now a Time to Go Long?  
After Dollar General previewed its fourth-quarter earnings, I discussed Dollar General on MarketBeat's YouTube channel. At that time, I pointed to a few catalysts. First, the company continues to open new stores and refresh others to include both fresh and frozen offerings. 
Second, if the company comes in at the average of analysts' earnings guidance for 2023, it will post a 3% year-over-year gain. That will stand out in a year when earnings are expected to be under pressure. And when you add a sustainable dividend with a 1% yield, investors could find themselves with a decent total return for the year.  
At the same time, it's not a bad idea to wait for confirmation that DG stock won't move lower. Timing the market is not an exact science, but until the technical trends change, you may want to keep Dollar General on your watchlist.