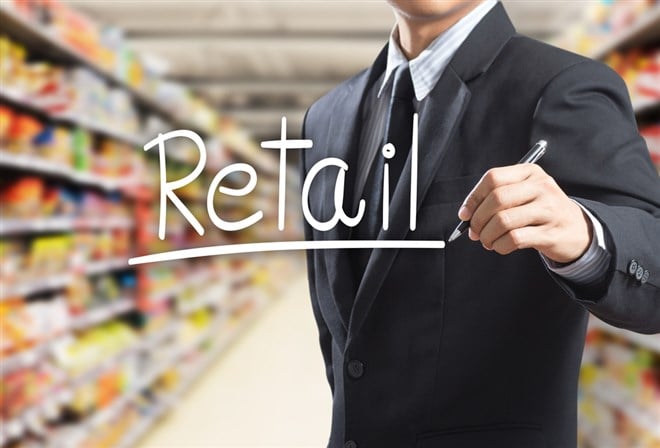 It was supposed to be a rough year for retailers. You wouldn't know it by their stock charts.
The National Retail Federation predicted that November and December sales would grow around 7%. As it turned out, inflation and higher interest rates had a bigger-than-expected impact on holiday shopping. The 5.3% actual growth not only fell well short of expectations, but has been called a downbeat tone-setter for the new year.
Flip the calendar to 2023, however, and shares of several retailers are red hot. E-commerce leaders Amazon, Ebay and Etsy are each up approximately 15% year-to-date. The S&P Retail Select Index is up more than 10%.  
Signs of cooling inflation and the potential for a less aggressive Fed have investors lining up for retail again in hopes of shoppers doing the same. Yet with most companies yet to release Q4 earnings and 2023 outlooks, is the market getting ahead of itself? Will brick-and-mortar and online spending really exceed expectations?
It's too early to tell, but investors sure seem to be positioning for a strong retail rebound in 2023. Here are three more retailers that are ringing in the New Year in style.
Why is Wayfair Stock Flying? 
Wayfair, Inc. (NYSE: W) jumped more than 20% on January 23rd to extend an impressive run to start the year. The home goods retailer is already up more than 70% year-to-date, thanks to improved retail sector sentiment and an ambitious turnaround plan. 
Wayfair was one of the biggest beneficiaries of the pandemic-led online shopping craze. It crashed back down to earth last year due to a sharp sales slowdown and increased operating expenses.
On Friday, Wayfair provided an encouraging business update. As part of a previously announced restructuring plan to generate more than $1.4 billion in annual cost savings, it will reduce its workforce by about 10%, with most job cuts at the corporate level. The move is slated to accomplish roughly half of the annual savings target and bring the company to EBITDA breakeven earlier in 2023.
Longtime Wayfair bear JP Morgan then announced a rare 'double upgrade' from Underweight to Overweight. Analysts cited the likelihood of management's cost control commitment and favorable market share developments leading to better bottom-line results. Bank of America did its double upgrade to Buy, noting Wayfair is "running a leaner, meaner house."
The market has quickly bid Wayfair shares toward the firms' revised targets of $63 and $65. Although technical indicators point to overbought conditions, daily trading volume five-times above normal could keep this uptrend going well into the winter months. 
Is the Kohl's Stock Rally For Real?
Kohl's Corporation (NYSE: KSS) stretched its winning streak to nine days on Monday. However , the surprising 26% surge to start the year has, however, been accompanied by low trading volume. This and a lack of direct company news could make this run a 'head fake.' Kohl's stock plunged nearly 50% last year due to a mix of industry and company-specific challenges.
The Kohl's relief rally could partially relate to Bed Bath & Beyond's sales struggles and recent talk of bankruptcy. On the one hand, Bed Bath & Beyond store closures would draw more customers to Kohl's, given the product category overlap. 
On the other hand, a high-priced liquidation sale involving Target and other retailers could force Kohl's to pay for Bed Bath & Beyond's leftovers should it choose to participate. Since inventory levels have been a concern of late, this may not be Kohl's best move. The better strategy is to wait for more shoppers to trickle in for existing merchandise.
Is Alibaba Stock Firmly in Recovery Mode?
Alibaba Group Holding Limited (NYSE: BABA) is one of several U.S.-listed Chinese stocks hopping higher in the year of the rabbit. Although it hasn't doubled like on-demand retailer Dada Nexus, a 36% year-to-date climb is a welcomed move given Alibaba's brutal last two years. 
The 'Amazon of China' is attracting buyers again thanks to the government's loosening of zero-Covid policies and reopening the world's second-largest economy. China is looking to rebound from its second-slowest GDP growth rate since 1976 after posting just 3% growth in 2022.
Alibaba has been eerily quiet on the PR front since announcing third-quarter results, which could amount to the calm before the recovery storm. On pace to deliver minimal growth in its current fiscal year, the e-commerce giant is projected to grow earnings 18% in fiscal 2023. Much of this is expected to be derived from a pickup in domestic commerce, which accounts for approximately 70% of the business. Solid contributions from international commerce and cloud computing could also create positive earnings surprises.
Wall Street remains bullish on Alibaba and sees a significant upside despite the stock has doubled from its October 2022 low. Eight analysts have reiterated buy ratings this year and given price targets as high as $160.