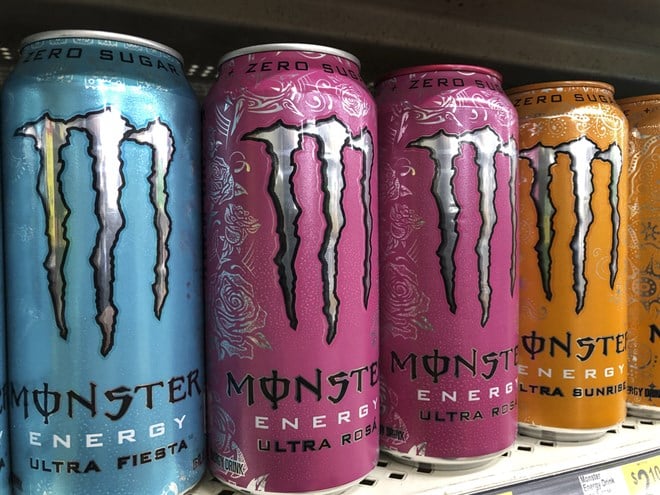 It's been a monster run for Monster Beverage Corporation (NASDAQ: MNST). Over the last 15 years, shares of the energy drink maker have returned 19.7% annually while delivering phenomenal financial results along the way. It's a return that's more than double that of the broader U.S. stock market.
Monster's roots date back to 1935 when it sold juices under the Hansen's banner. Since selling Hansen's business to Coca Cola 10 years ago, Monster has boldly helped define an energy drink category that isn't losing energy. It's still growing.
According to research group QuadIntel, the global energy drink market will grow at a 9.6% rate for the remainder of the decade. The jolt is expected from the prevailing lifestyle shift towards busier schedules and a growing disdain for sugary sodas and juices. As in-person work and social activities resume, taste, variety, and a caffeine boost will drive more people to energy drinks.
An estimated 40% of the energy drink market is controlled by Monster, a close second to Red Bull's leading share. Beyond its flagship Monster Energy cans, the company owns NOS, Full Throttle, Reign and other popular brands that fill convenience store shelves.
Amid an influx of competition, Monster is not just holding up; it's growing — by launching new products, entering new markets and forming valuable sponsorship partnerships. 
As it climbs back above $100, the stock appears unlikely to lose fizz.
How Were Monster Beverage's Financials Last Quarter?
Although sales were up 15% year-over-year in the third quarter, Monster's earnings per share (EPS) were down -5%. The discrepancy stemmed from increased input and transportation costs, common headwinds in the food and beverage industry. A supply crunch on aluminum cans that drove prices up was the main reason strong top-line growth was squashed.
Monster isn't slated to report Q4 results until March 1st. The sell-side consensus calls for 12% revenue growth and a return to profit growth. If the company meets expectations, it will be its first period of bottom-line growth since the second quarter of 2021. Pandemic forces are at play in the comps, but the potential inflection could spark the next leg of the long-term uptrend.
Does Monster Beverage Stock Have a High Valuation?
It's important to factor in Monster's tremendous track record. Over the last five years, sales and profits have grown annually in the low teens. Few food and beverage players tout such growth, which is why the stock has historically commanded a premium valuation.
Lately, though, the valuation has become easier to swallow. 
With price hikes soon to be implemented and aluminum and freight costs expected to moderate, analysts see better profits ahead. For the first three quarters of 2023, consensus estimates imply 24%, 49% and 32% growth, respectively. The full-year EPS growth estimate equals 31% growth and a 34x P/E ratio. 
This may seem like a high price to pay for a beverage stock. But in a mature industry long dominated by Coca-Cola and Pepsi, Monster is an outlier. Its growth history and brand strength warrant a higher multiple — and given the room for margin expansion and international growth, arguably one north of 40x. In the post-Covid years, Monster shares have traded as high as 48x.
Are Hedge Funds Buying Monster Stock?
From an institutional investment standpoint, there's plenty of reason to dump big money into Monster Beverage. Aside from the growth profile, the balance sheet is in great shape, with $1.3 billion in cash and no long-term debt. These figures highly support pursuing long-term growth opportunities for a $53 billion company.
Hedge funds increased their holdings in Monster for the third consecutive time in Q3. The combined purchase of more than 400,000 shares brought the influential group's ownership to more than 3.5 million shares. Among the biggest Monster bulls is Defender Capital, which raised its portfolio position to 5.7%. Chilton Investment Company more than tripled its stake to $51 million.
The hedges' thirst for Monster is consistent with bullish sentiment on Wall Street. Earlier this month, Wells Fargo increased its price target to $115 while keeping an Overweight rating. The three previously issued opinions on the stock were also bullish.
With a large chunk of what's expected to be a fast-growing energy drink space, Monster's outlook remains scary good.