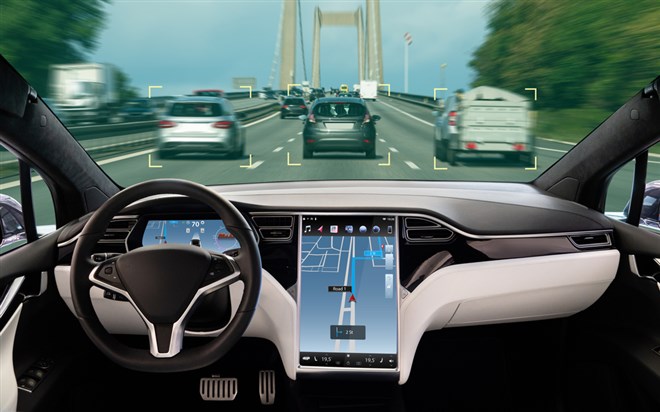 Even if fully autonomous driving isn't ready for the consumer marketplace, companies like Mobileye Global Inc. (NASDAQ: MBLY) are perfecting the technologies to make that a reality. 
Mobileye, spun off from Intel Corporation (NASDAQ: INTC) in October, has been trending higher recently, with gains in the past three sessions.
Investors seem to be embracing the company's technology of the future, Advanced Driver-Assistance Systems, dubbed ADAS. Although it's still in startup mode and has a market cap of just $1.7 billion, Mobileye has an advantage that some small, newly public companies don't: It has revenue-paying customers. 
For example, the company has formed partnerships with automakers, including Tesla Inc. (NASDAQ: TSLA), Lucid Group Inc. (NASDAQ: LCID), and Volkswagen (OTCMKTS: VWAGY).
Mobileye systems are used in driver-assist applications, such as navigation capabilities, collision avoidance, evasive maneuver assist, blind-spot detection, autonomous lane changing, and parking visualization and assistance. 
Autonomous Fleets In Industrial Settings 
Eventually, the goal is full driver autonomy, but that's not in the cards for consumer applications anytime soon. However, companies like Caterpillar (NYSE: CAT) operate autonomous fleets in industrial settings.
Earlier this month, as the company exhibited its technologies at the Consumer Electronics Show in Las Vegas, it released a statement saying it sees a revenue pipeline of ADAS business through 2030 of more than $17 billion. The company said that includes $3.5 billion of projected revenue from one system, SuperVision, launched in the fourth quarter of 2021.
Mobileye calls SuperVision the bridge to autonomous consumer vehicles. The technology provides "hands-off" navigation capabilities and is designed to operate in standard driving situations on all roads. A driver is still required to keep his or her eyes on the road at full attention.
Analysts are somewhat bullish on Mobileye for the near-to-medium term. Data compiled by MarketBeat show a consensus rating of "moderate-buy" with a price target of $39.79, representing a 19% potential upside.
Since the company last reported earnings on December 7, two analysts boosted their price targets, and one, JPMorgan Chase, initiated coverage with an "overweight" rating and a price target of $50.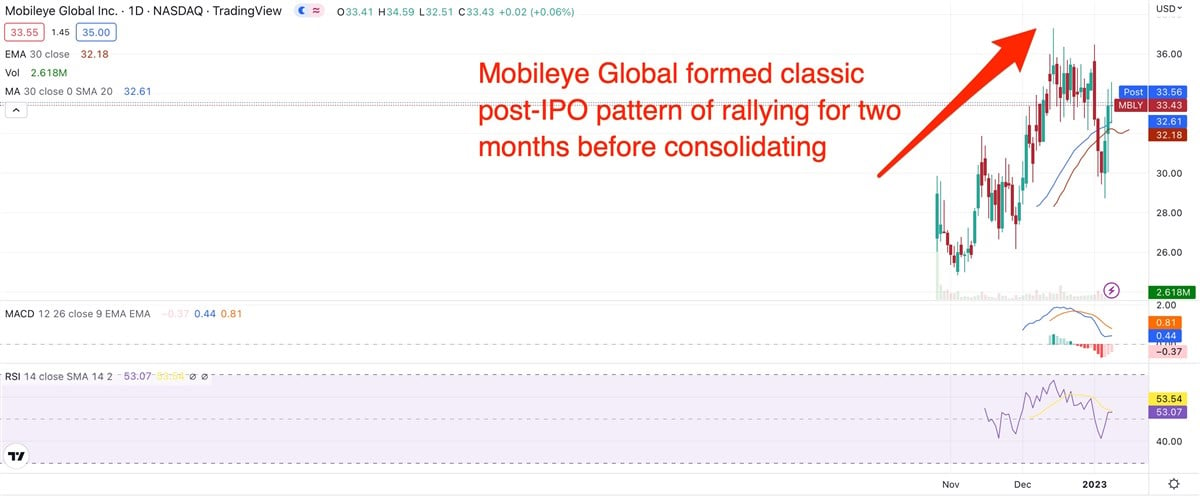 Seeing Earnings Growth For Mobileye
Wall Street is eyeing earnings of $0.64 per share for the full year of 2022, which the company reports on March 8, ahead of the opening bell. That would be growth of 8% over 2021. Analysts see the company earning $0.18 for the fourth quarter, on revenue of $499.26 million. 
This year, Wall Street expects earnings to increase another 8% to $0.69 per share. The company has grown revenue in the past eight quarters, albeit at inconsistent rates, ranging from 5% to 121%.
The autonomous driving industry was negatively impacted by the Covid pandemic, with companies suspending testing. However, an October report by Strategic Market Research found that the global market size for the autonomous vehicle market as a whole was  $25.14 billion at the end of 2021. That's increasing at a compound annual growth rate of 25.7% and is forecast to have a value of around $196.97 billion by 2030.
So even if a company like Mobileye has a small market capitalization and is new to the public markets, there appears to be potential for it and its entire industry. Many analysts lauded Intel's decision to spin off the company, as it was not a strategic focus of the chipmaker. The spinoff allowed Mobileye to raise cash in the public markets and garner analyst attention separate from its parent company.
Mobileye is forming a classic post-IPO pattern: The stock rallied to a high of $37.31 in October, then began correcting. It's common for newly public companies to stage a strong rally of weeks or months and then go into a selloff as early investors take profits. 
Only within the past few sessions did the stock rack up enough trading days to present a 50-day moving average. Shares closed Tuesday 9.1% above that key price line.