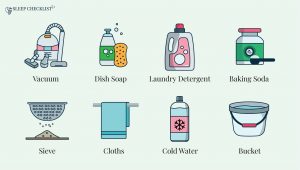 London, UK – The Sleep Checklist is a growing team of medical experts and certified Sleep Science coaches dedicated to providing up-to-date and honest information on mattresses, bedding, accessories and new technology being introduced in the sleep sector.
Their in-depth mattress advice and product reviews are designed to help those who are searching for ways to improve their sleep by showing them a selection of different mattress types and materials, along with offering information on how to effectively clean and prolong a mattress's lifespan, how to upcycle a mattress once it needs to be replaced and how to correctly store a mattress for later use.
They have now released the top sustainable and environmentally friendly mattresses, including price points, advantages, disadvantages, and the easy ways you can reuse or recycle an old mattress so that their users can start 2023 with a responsible, as well as a good night's sleep.
Make All The Right Mattress Moves
The Sleep Checklist has a variety of information-rich articles that cover a range of topics from the best mattress types to suit your sleeping position, the most effective hypoallergenic mattress materials, to the ideal mattress toppers that can improve comfort for those suffering from back pain.
Their website prides itself on offering unbiased and honest reviews based on the team's experiences, as well as providing the information and an essential sleep checklist (where you can find the most important factors to consider for the perfect night's sleep) completely for free.
Due to the increasing issue of land pollution due to overflowing landfill sites, The Sleep Checklist has now released several articles that show their users fun and easy ways how to recycle and upscale their mattresses, as well as the most sustainable materials you can choose from to increase your mattresses lifespan and lower your environmental impact.
A Sustainable Upgrade
Mattresses are one of the most important products in your home as you spend about ⅓ of your life in bed, and the quality of the mattress can have a monumental impact on both your sleep and overall health.
When searching for a sustainable mattress material, The Sleep Checklist has a wide variety to choose from but suggests opting for a latex mattress, whether they are made with natural, synthetic, or blended latex.
Natural latex is commonly referred to as the ideal choice for an eco-friendly mattress because of its durability, pain relief for those suffering from joint discomfort, and cooling feel from its open cell structure.
Synthetic or blended latex mattresses have a shorter lifespan because the chemicals used in the production process break down quicker over time but still have many of the same benefits of natural latex and are recommended for those suffering from allergies.
Latex mattresses have minimal negative points besides their high price, and users finding them less comfortable compared to softer mattress materials, such as memory foam.
Recycling or Reusing
When your mattress (or mattress protector) has become stained, damaged or is no longer comfortable, it may be time to consider replacing it with a new one.
Many people spend much time searching for a new mattress but often don't place the same energy on finding the best way to dispose of their old one and either store it away to take up space in their home or dump it at their local landfill site.
The Sleep Checklist has a helpful recycling and reusing guide on their website where you can see the easiest and most environmentally friendly ways to dispose or reuse your old mattress, such as:
Taking your old mattress to your local recycling centre
Donating it to charity or homeless shelter
Turning your mattress into a DIY pet bed
Reusing your mattress protector as a DIY bag
Crafting your mattress protector into a set of new curtains
More information
To find out more about The Sleep Checklist and to read more of their mattress reviews, please visit their website at https://thesleepchecklist.co.uk/.
Source: https://thenewsfront.com/the-sleep-checklist-release-the-top-sustainable-and-environmentally-friendly-mattresses-to-help-you-start-2023-with-a-good-nights-sleep/
About The Sleep Checklist
TheSleepChecklist not only the UK's finest mattress reviews, but through perseverance, unboxing blisters, countless run-ins with customer service staff, I've managed to hopefully bring to you the brighter world of a comfy, relaxing night's sleep.
Contact The Sleep Checklist
124 City Road
London
EC1V 2NX
United Kingdom
Website: https://thesleepchecklist.co.uk/