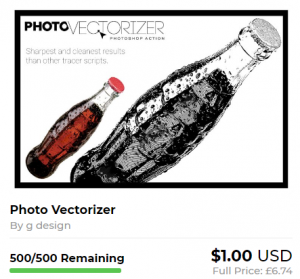 [London, UK] [November, 2022]— Since 2005, Black Friday has officially been the busiest shopping day of the year in the US and beyond, with shoppers anticipating incredible deals and much-needed retail therapy. Crafters look forward to this day each year with equal relish, particularly to the most well-known crafting event in the industry – the Ultimate Dollar Deal (UDD) event, held by Design Bundles.
Starting on Black Friday Friday 25th November, 9am GMT, Design Bundles will once again hold its well-loved UDD Black Friday event, which will last until Wednesday 30th, 6am GMT.
In this anticipated annual event held by Design Bundles, designers get to submit six products from their stores. From Black Friday, all products will be discounted to an incredible $1. You may have five whole days to browse and purchase from the incredible and high quality range, but there is a caveat – sales of each design are limited to 500 general sale copies – so if you see something you love, be sure to snap it up fast! If you want to guarantee a purchase, you can always become a Plus Member – Plus Members can purchase designs even after sale copies are sold out, for the same $1 a piece.
Among the designs are various SVG bundles, including fonts, Christmas cuttables, designs for your kitchen, door signs, tumbler files and a wide range of clip art. To check out what's available, you can find over 21,000 products on the link below:
https://designbundles.net/black-friday-products
"Crafters and Graphic Designers, particularly those on a budget, or those creating lots of gifts for family and friends look forward to the Ultimate Dollar Event every year! It's always a great opportunity to save money on Digital Design Assets that may otherwise be unattainable. This is particularly helpful in situations of economic downturn and rising costs as we are seeing today, but this also helps our authors gain new followers, promote their brands and earn some extra income for the Christmas period. It's a win/win situation!"
Andy Croft, CEO & Co-Founder, Design Bundles
About Design Bundles:
Design Bundles is the go-to digital design marketplace for graphic designers, crafters, businesses, and educators. Rated excellent on TrustPilot, Design Bundles has a comprehensive and exhaustive range of SVG files, fonts, laser cutting templates, and more. Design Bundles offer free and paid premium design resources with savings of up to 96% off RRP from thousands of independent designers, with new design resources each week.
Source: https://thenewsfront.com/design-bundles-announces-the-ultimate-dollar-deal-2022-a-crafters-dream/
About Design Bundles
DesignBundles.net offer exclusive deals on high quality premium design resources and free design resources. We offer savings of up to 96% off the RRP on design elements from thousands of independent designers.
Contact Design Bundles
455 E Eisenhower Pkwy
Ann Arbor
MI 48108
United States
(734) 887-9510
Website: https://designbundles.net/