VANCOUVER, British Columbia, April 18, 2023 (GLOBE NEWSWIRE) -- Tearlach Resources Limited (TSXV: TEA) (OTC: TELHF) (FRANKFURT: V44) ("Tearlach" or the "Company") announce the rush assay results for the first set of five (5) out of the eleven (11) holes on the Gabriel Project Phase 1 drilling program. The drill holes contained broad mineralization zones, with intervals exceeding 1,000 ppm lithium and grades up to 1,460 ppm. The twinned drill holes showed grades up to 85% higher than the Blackrock Silver ("BRS") program in the mineralized zones.

Assay Highlights:
Each of the five (5) drill holes encountered over 1,000 ppm lithium with thick zones of mineralization, with assays from six (6) drill holes pending.
The longest intercept of lithium mineralization for the five (5) holes is 146.6 feet - Hole - 009.
Highest primary intercept grade is 802 ppm Li over 61 feet - Hole - 018.
The highest grade for an "Included intercept" is 1,196 ppm lithium over 33.3 feet, including 1,460 ppm - Hole - 012.
Each hole returned multiple assay values (total of 15) > 1,000 ppm Li, with the highest value being 1,460 ppm.

Continuity:
Geological Continuity of claystone stratigraphy in all drill holes.
4.12 km2 was drilled in this initial drilling campaign.
The reported drill core holes are within a general area of 1.5 kilometers x 2.75 kilometers.

Comparison with Previous Results:
The lithium intercepts confirm BRS's discovery, and the Gabriel twin holes' confirmation drilling yielded grades 40-85% higher than the corresponding Blackrock Silver holes.
The continued discrepancy between the TEA and BRS assays justifies a comprehensive re-assay program for BRS TN22 drill hole pulps, with results to be utilized in future resource estimation.
Bordering American Lithium Corp.'s TLC deposit, Gabriel shows similar lithium-bearing lithologic horizons and similar potential to host a significant lithium deposit immediately adjacent to a major highway, US95, and just outside of the town of Tonopah. There is no assurance that mineralization comparable in size or scale to that on adjacent properties will be discovered on Gabriel.

Note: Mineralization on adjacent or nearby properties is not indicative of mineralization on the Gabriel Project.
"This is a big step for Tearlach, from the joint venture's inception to the first drill results within three months, and is a massive credit to the team. Not only have we confirmed the discovery, but our core drilling has established that the grade profile is substantially higher than previously discovered by BRS. These results, along with the wide-spaced step-out holes that remain to be reported, demonstrate the project's high-grade and thick zone potential over a large area. American Lithium and American Battery Technology, also on the Tonopah lithium belt, have emerged as globally significant deposits. With Tearlach's team seeing many similarities, Gabriel could quickly advance to a similar state of development with a resource planned by year-end," Morgan Lekstrom, the CEO, explained. "The recheck assay program is a very simple solution developed in collaboration with our resource modellers and geologists that allow us to utilize the BRS program in our resource modelling, again low cost – high impact work."
Results have been received for two (2) core holes that have been drilled to "twin" a Blackrock Silver rotary hole (the "TN22" holes). A zone of claystone-hosted lithium mineralization is present in both holes. The intercept grade for both holes is higher than the corresponding intercept for the Blackrock Silver-Drilled TN22 holes.
Gabriel-Blackrock Silver Twin Holes

| | | |
| --- | --- | --- |
|   | Notes: | 1) 400 ppm Li cut-off grade. |
|   |   | 2) No recovery intervals internal to an intercept assigned a grade of "ZERO." |
|   |   | 3) The Gabriel core sample intervals closely, but not exactly, conform to the TN22 rotary sample intervals. |
Analytical results for three (3) step-out Gabriel core holes have been received and reported as the following. Lithium mineralization in these three (3) holes is primarily hosted in laminated claystone and locally within gravel interbeds (see photo below).
Notes: 400 ppm Li cut-off grade. Assay results pending for GAB-018 downhole from 300 feet
It is encouraging that the lithium mineralization intersected in these holes expands the footprint of drilled mineralization into the western portion of the Gabriel property.
The core boxes below display the lithology and corresponding lithium grades for four (4) of the five (5) drill holes reported here, with each hole represented by one core box.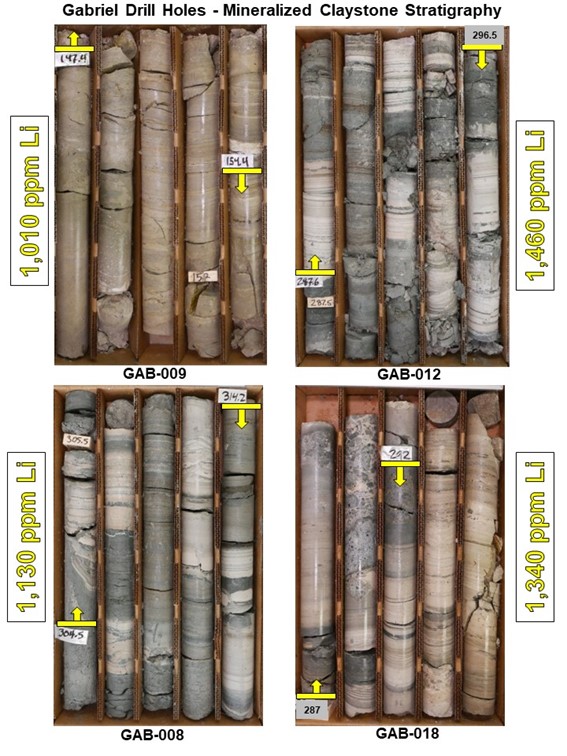 Gabriel Phase 1 Drill Hole Location Map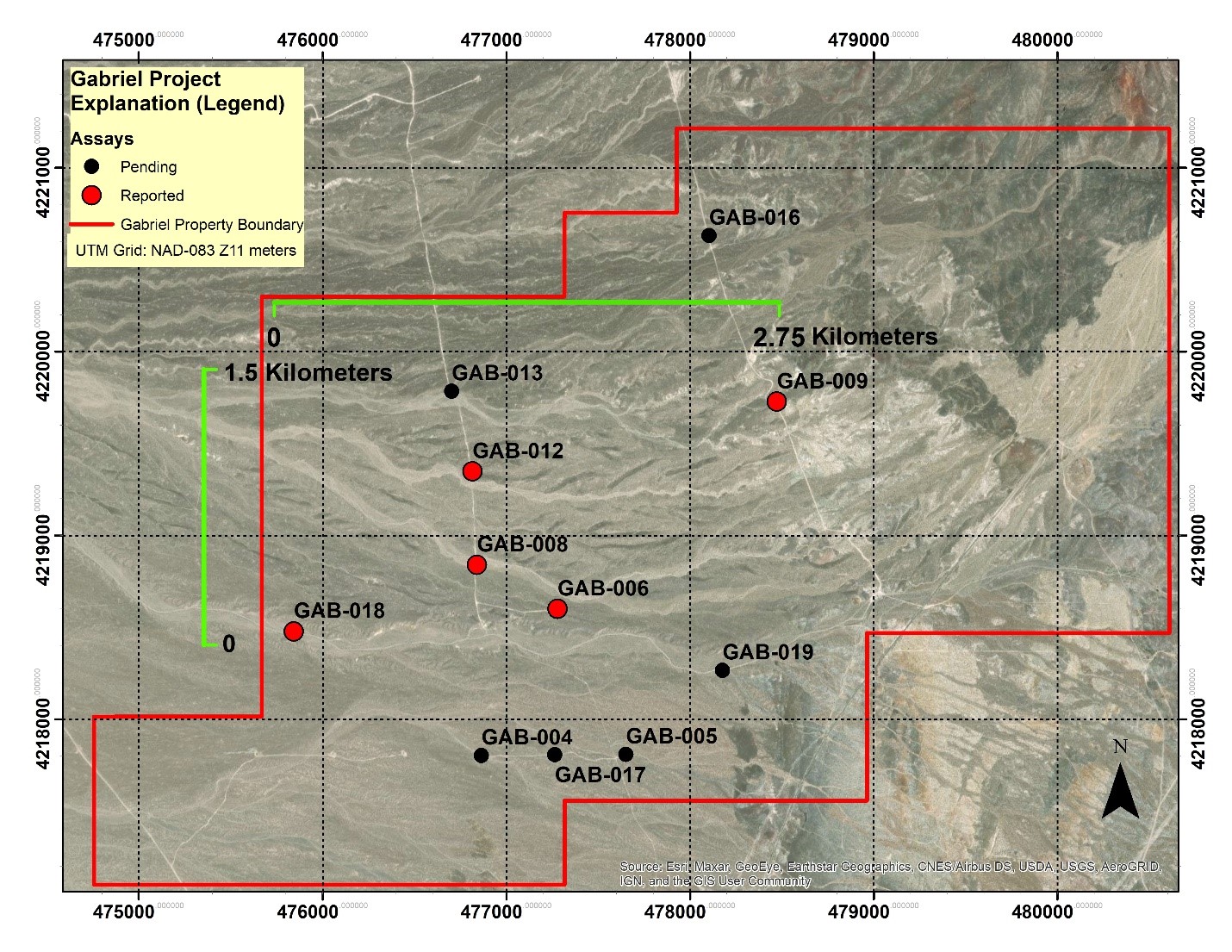 Assay Procedures:
The procedures utilized for handling the drill core and analysis of samples are as follows:
Core boxes transported daily from the drill rig to the BRS core logging facility in Tonopah, Nevada, by either the drill crew or TEA geologists,
Initial logging of the core conducted by the TEA geologists, including for rock type, percent recovery and rock quality,
Sample intervals marked,
Certified Reference Material (CRM) pulps, coarse blank, and blank pulps inserted into the sample set,
Photographed each box of core,
Core boxes transported from the Tonopah logging facility to the ALS Laboratory located in Reno, Nevada, by either ALS contracted drivers or by TEA geologic staff,
Core cut and sampled by ALS staff,
Samples dried, weighed, crushed, pulverized, and split by ALS,
Samples subjected to a 4-acid digestion and analyzed by ICP (ME-ICP61) by ALS,
Chain of custody and security maintained throughout the material handling and analytical processes.
TEA geologists have identified 650 samples (3,250 feet of drilling) from TN22 holes that are candidates for check assaying (re-assay pulps). The addition of this data to the GAB drilling dataset, at a low relative cost, will expand the extent of data around the perimeter of GAB holes and increase the density of data internal to the GAB drill pattern. A set of 28 intact core samples have been collected for bulk density measurement. The determinations will be conducted by the ALS Laboratory in Reno, Nevada. The bulk density values will be directly utilized for resource model calculations.
Qualified Person:
Mr. David Flint, CPG with AIPG., Director of the subsidiary Pan Am Lithium (Nevada) Corp, and a Qualified Person as defined by National Instrument 43-101 – Standards of Disclosure for Mineral Projects, has reviewed and approved the scientific and technical information contained in this news release.
About Tearlach:
Tearlach, a member of the TSX Venture 50, is a Canadian exploration company engaged in acquiring, exploring, and developing lithium projects. Tearlach has a Joint Venture agreement with Blackrock Silver on the Gabriel project in Tonopah, Nevada, bordering American Lithium's TLC Deposit, and has completed 11 drill holes on the Gabriel Property. Tearlach has three lithium assets in Ontario: Final Frontier, Georgina Stairs and New Frontier. Final Frontier is located adjacent to and near Frontier Lithium's PAK lithium deposit north of Red Lake. Georgina Stairs is located northeast of Rock Tech Lithium's Georgia Lake deposit near Beardmore. Tearlach has two lithium assets in Quebec: Rose-Fliszar-Muscovite Project in the James Bay area and Shelby Project adjacent to and near Patriot Battery Metals' Corvette lithium project and Winsome Resources' Cancet and Adina lithium projects. Tearlach also has the Savant Property, an exploration stage Gold-Silver-Copper Property, in Northwestern Ontario. Tearlach's primary objective is to position itself as North America's leading lithium exploration and development company. For more information, please get in touch with the Company at info@tearlach.ca or visit our website at www.tearlach.ca for project updates and related background information.
ON BEHALF OF THE BOARD OF DIRECTORS,
TEARLACH RESOURCES LIMITED.
Morgan Lekstrom
Chief Executive Officer
Suite 610 - 700 W. Pender Street
Vancouver, BC, Canada V6C 1G8
Tel: 604-688-5007
Follow us on Facebook, Twitter, and LinkedIn.
Forward-looking statements
This press release contains forward-looking statements and forward-looking information within the meaning of Canadian securities laws (collectively, "forward-looking statements"). Statements and information that are not historical facts are forward-looking statements. Forward-looking statements are frequently, but not always, identified by words such as "expects", "anticipates", "believes", "intends", "estimates", "potential", "possible" and similar expressions or statements that events, conditions or results "will", "may", "could" or "should" occur or be achieved. Forward-looking statements and the assumptions made in respect thereof involve known and unknown risks, uncertainties, and other factors beyond the Company's control. Forward-looking statements in this press release include statements regarding beliefs, plans, expectations or intentions of the Company. Mineral exploration is highly speculative and characterized by several significant risks, which even a combination of careful evaluation, experience and knowledge may not eliminate. Forward-looking statements in this press release are made as of the date herein. Although the Company believes that the assumptions and factors used in preparing the forward-looking statements in this press release are reasonable, undue reliance should not be placed on such statements. The Company undertakes no obligation to update publicly or otherwise revise any forward-looking statements, whether as a result of new information or future events or otherwise, except as may be required by law.
Neither the TSX Venture Exchange nor its Regulation Service provided (as that term is defined in the policies of the TSX Venture Exchange) accepts responsibility for the adequacy or accuracy of this release.

Photos accompanying this announcement are available at
https://www.globenewswire.com/NewsRoom/AttachmentNg/db562c45-da20-442f-b2d7-a5762d498d5e
https://www.globenewswire.com/NewsRoom/AttachmentNg/2fa70140-b1eb-4cfb-bb1f-c60b43cf3c30
https://www.globenewswire.com/NewsRoom/AttachmentNg/5487a84a-5cda-45a3-b8bb-9bdfc7051abd
https://www.globenewswire.com/NewsRoom/AttachmentNg/7bd0e3fd-f9a7-4f1f-8db7-19f09173cf06