VANCOUVER, British Columbia, March 29, 2023 (GLOBE NEWSWIRE) -- Tearlach Resources Limited (TSXV: TEA) (OTC: TELHF) (FRANKFURT: V44) ("Tearlach" or the "Company") is pleased to announce that it has identified similar geophysical signatures on the Georgina Stairs Property to those of known spodumene pegmatites in Georgia Lake pegmatite field. The Georgina Stairs Property was acquired by staking and is held 100% by Tearlach. The Property consists of 585 claims near Beardmore, northwestern Ontario. The Georgina Stairs Project is currently about 11,078 ha and is 14 km long by 12 km wide.

Georgina Stairs Property highlights:
Same geology as Rock Tech's Georgina Lake spodumene pegmatites.
District size Discovery potential, large land package handpicked by leading hard rock lithium expert, Tearlach VP Exploration Dr. Julie Selway.
Rock Tech Lithium's Georgia Lake project at a Pre-Feasibility Stage helps de-risk Tearlach and was advanced quickly in the same jurisdiction. Rock Tech's PFS NI 43-101 Technical Report is dated Oct. 1, 2022.
The project footprint is a potential company maker in a jurisdiction where Rock Tech's resource is hosted.
Same regional airborne total magnetic signature as Georgia Lake spodumene pegmatites.
Same regional airborne radiometric potassium intensity signature as Georgia Lake spodumene pegmatites.
Most of the Property is unexplored and is located near the Georgia Lake pegmatite field.
Roads connect the Property to the TransCanada Highway #1.
Dr. Selway, VP Exploration, states, "I see Georgina Stairs Property as an opportunity to do exploration work on a property with no previous lithium exploration despite being close to the Georgia Lake spodumene field. I can't wait for the snow to melt to uncover what the property offers."
Morgan Lekstrom, CEO, states, "With a similar land package and geological setting to Rock Tech Lithium, this not only provides a major discovery potential but alone could be a company maker. Dr. Selway was able to use her unique area knowledge and maps to identify this project and acquire the geophysics on it. Georgina Stairs' geophysical similarities to Rock Tech's Georgia Lake spodumene field make this not only an exciting target but put us in a very favourable jurisdiction with a very good path forward."
Figure 1: Regional total magnetic field for the Georgia Lake area, Northwestern Ontario.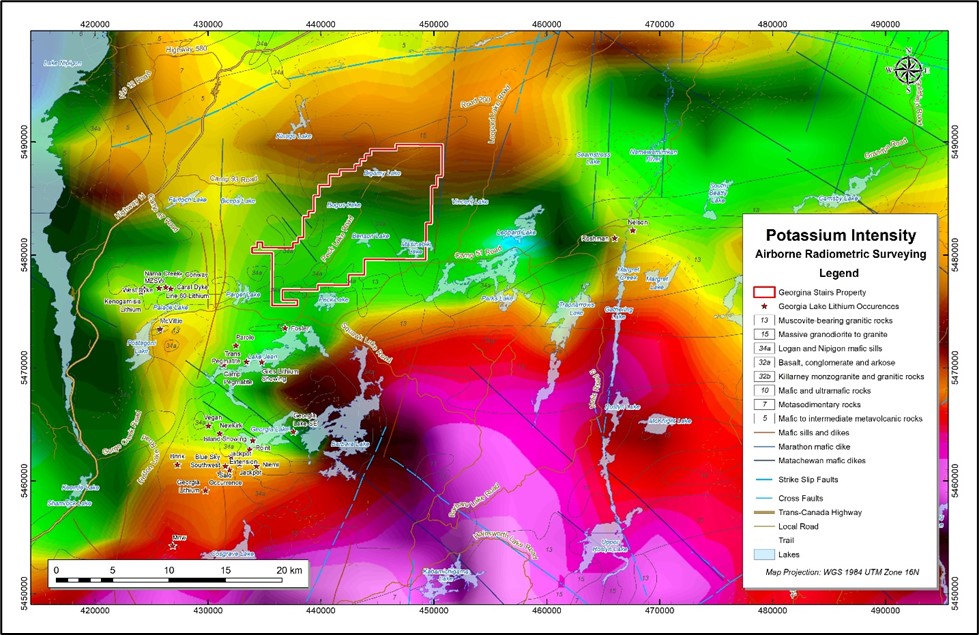 Figure 2: Regional potassium intensity from an airborne radiometric survey for Georgia Lake, Northwestern Ontario.
Technical Information:
The regional airborne total magnetic signature for the Georgia Lake pegmatite field indicates that the spodumene pegmatites occur at the margin of a magnetic high (Figure 1). Georgina Stairs property has the same magnetic signature. The magnetic high in the area occurs from Postagoni Lake in the west to Lake Jean to Parks Lake to Gamsby Lake in the east. The regional deep-seated NW-SE trending Matachewan diabase dykes are visible on the total magnetics map. Whereas the regional N-S trending Marathon diabase dykes are non-magnetic.
The regional airborne radiometric potassium intensity signature for the Georgia Lake pegmatite field indicates that the spodumene pegmatites occur in medium low potassium intensity (green colour on map) that extends from Postagoni Lake in the west to Gamsby Lake in the east (Figure 2). This medium low potassium indicates low K-feldspar content in the rocks, which is favourable in the Georgia Lake pegmatite field. Georgina Stairs Property has the same medium low potassium intensity as the Georgia Lake spodumene pegmatites.
The fact that the geology and geophysics at Georgina Stairs are similar to the known spodumene pegmatites at Georgia Lake and a lack of previous exploration on the Property suggests a potential for discovery of lithium mineralization.
Qualified Person:
Julie Selway, Ph.D., P.Geo. supervised the preparation of the scientific and technical information that formed the basis for the written disclosure in this news release. Dr. Selway is the VP of Exploration for Tearlach Resources and the Qualified Person ("QP") as defined by National Instrument 43-101. Dr. Selway completed a Ph.D. on granitic pegmatites in 1999 and worked for 3 years as a pegmatite geoscientist for the Ontario Geological Survey. Dr. Selway has worked on numerous pegmatites over the years, including Case Lake, Gullwing-Tot Lakes, Separation Rapids, Georgia Lake and Seymour Lake pegmatites. Dr. Selway has authored or co-authored twenty-three scientific journal articles on pegmatites.
About Tearlach:
Tearlach, a member of the TSX Venture 50, is a Canadian exploration company engaged in acquiring, exploring, and developing lithium projects. Tearlach has a Joint Venture agreement with Blackrock silver on the Gabriel project in Tonopah, Nevada, bordering American Lithium's TLC Deposit, and has completed 11 drill holes on the Gabriel Property. Tearlach has three lithium assets in Ontario: Final Frontier, Georgina Stairs and New Frontier. Final Frontier is located adjacent to and near Frontier Lithium's PAK lithium deposit, north of Red Lake. Georgina Stairs is located northeast of Rock Tech Lithium's Georgia Lake deposit near Beardmore. Tearlach has two lithium assets in Quebec: Rose-Fliszar-Muscovite Project in the James Bay area and Shelby Project adjacent to and near Patriot Battery Metals' Corvette lithium project and Winsome Resources' Cancet and Adina lithium projects. Tearlach also has the Savant Property, an exploration stage Gold-Silver-Copper Property, in Northwestern Ontario. Tearlach's primary objective is to position itself as North America's leading lithium exploration and development company. For more information, please get in touch with the Company at info@tearlach.ca or visit our website at www.tearlach.ca for project updates and related background information.
ON BEHALF OF THE BOARD OF DIRECTORS,
TEARLACH RESOURCES LIMITED
Morgan Lekstrom
Chief Executive Officer
Suite 610 - 700 W. Pender Street
Vancouver, BC, Canada V6C 1G8
Tel: 604-688-5007
Follow us on Facebook, Twitter, and Linkedin.
Forward-looking statements
This press release contains forward-looking statements and forward-looking information within the meaning of Canadian securities laws (collectively, "forward-looking statements"). Statements and information that are not historical facts are forward-looking statements. Forward-looking statements are frequently, but not always, identified by words such as "expects", "anticipates", "believes", "intends", "estimates", "potential", "possible" and similar expressions or statements that events, conditions or results "will", "may", "could" or "should" occur or be achieved. Forward-looking statements and the assumptions made in respect thereof involve known and unknown risks, uncertainties, and other factors beyond the Company's control. Forward-looking statements in this press release include statements regarding beliefs, plans, expectations or intentions of the Company. Mineral exploration is highly speculative, and characterized by several significant risks, which even a combination of careful evaluation, experience and knowledge may not eliminate. Forward-looking statements in this press release are made as of the date herein. Although the Company believes that the assumptions and factors used in preparing the forward-looking statements in this press release are reasonable, undue reliance should not be placed on such statements. The Company undertakes no obligation to update publicly or otherwise revise any forward-looking statements, whether as a result of new information or future events or otherwise, except as may be required by law.
Neither the TSX Venture Exchange nor its Regulation Service provided (as that term is defined in the policies of the TSX Venture Exchange) accepts responsibility for the adequacy or accuracy of this release.
Photos accompanying this announcement are available at:
https://www.globenewswire.com/NewsRoom/AttachmentNg/29345fbd-4d97-4249-9ab7-b4a2389c2d6c
https://www.globenewswire.com/NewsRoom/AttachmentNg/5a35b240-7212-48ad-8458-e304c4b82c49