2nd Urgent Care Center Opened in Houston County in Last 6 Months

WARNER ROBINS, Ga. - April 18, 2023 - PRLog -- Peachtree Immediate CareTM, the leading urgent care operator in the greater metropolitan Atlanta area and the state of Georgia which is owned by Atlanta-based CRH Healthcare (CRH), has opened a center in Bonaire located at 782 SR 96 near The Shoppes at Houston Lake. Peachtree Immediate Care - Bonaire offers urgent care, COVID-19 evaluation and testing, occupational health, and limited primary care services. This location is open 7 days a week with the following hours of operation:
Monday - Friday, 7:30am – 7:30pm
Saturday, 8:30am – 5:00pm
Sunday, 10:00am – 4:00pm
"Peachtree Immediate Care continues to invest in the greater Bonaire/Warner Robins community; this will be the second, brand-new urgent care center we have opened in Houston County over the last 6 months," said Bill Miller, CEO of CRH Healthcare. "In addition to our Bonaire location, we opened a facility in Centerville, directly north of here, last October and we have a center in Perry that has been open for many years. We look forward to continuing our mission
to deliver the Perfect Patient Experience every time
in Bonaire and the broader Houston County area."
Peachtree Immediate Care continues to look for opportunities to expand their network and provide convenient access to quality healthcare at lower costs than typical alternatives. Additional Georgia-based centers will open in 2023 in North Alpharetta, North Lawrenceville, East Cobb, Bethlehem, and Lovejoy, among others. Also, Peachtree Immediate Care will relocate centers within the Valdosta and Tifton communities to ensure that their infrastructures meet the high standards of our new centers. All centers share a common electronic medical record system as well as online check-in capability and eRegistration
,
in addition to each having an on-site lab and digital x-ray suite.
Centers are staffed by capable providers—board-certified physicians, physician assistants, or nurse practitioners—as well as highly trained clinical and support staff. Peachtree Immediate Care is continuously hiring for these positions in new as well as existing centers at
crhhealthcare.com/careers
.
Urgent care services include treatment for injuries and illnesses that require attention but are not life-threatening. Examples include flu-like symptoms, strep throat, minor burns, pink eye, ear/skin infections, lacerations, STD testing and treatment, sprains, and more. In addition to urgent care services, the clinics also offer limited primary care and occupational health services, which includes physicals (e.g., pre-employment, annual, & DOT), worker's compensation injury treatment, and drug testing.
For more information on Peachtree Immediate Care, visit
www.peachtreemed.com
.
For more information on CRH Healthcare, visit
www.crhhealthcare.com
.
Contact
Tim Kiss
***@crhhealthcare.com
Photos: (Click photo to enlarge)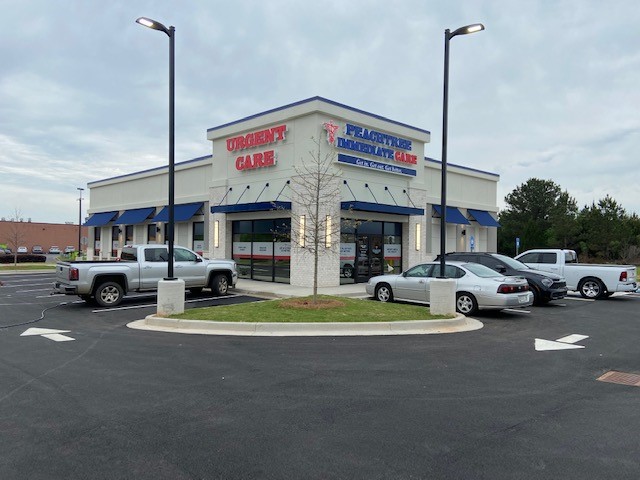 Read Full Story -
Peachtree Immediate Care Opens Urgent Care Clinic in Bonaire
|
More news from this source
Press release distribution by PRLog