NEW YORK - March 21, 2022 - PRLog -- Today UNITE 2030, the global community for Changemakers from 197 countries, announced the launch of their #SeatAtTheTable Campaign, calling on aspiring social entrepreneurs to start building solutions to the world's most critical challenges: poverty, inequality, injustice, and climate change.

#SeatAtTheTable is calling on youth around the world to claim their seat at the table by taking action to solve the biggest challenges that the world faces through entrepreneurship and innovation.

The campaign begins this morning, March 21st, and continues until April 1st with a series of events to bring together youth who are passionate about driving sustainable change to co-create solutions and discuss best practices to solve these problems.

#SeatAtTheTable emphasizes action in 7 core priority areas that echo the priorities of youth: climate change, poverty, health, gender inequality, education, clean water, and economic growth.

UNITE 2030 Executive Director Alyssa Chassman said about the campaign "Millennials and Gen Z are the largest and most energized youth generation in history. #SeatAtTheTable was truly designed to bring together Changemakers, or youth leaders who are passionate about solving these problems in order to empower them to do so. Throughout the next two weeks, we're collecting inspiring stories of youth leaders who are already leading change in their communities, and highlighting their actions in order to inspire others."

#SeatAtTheTable comes at an opportune time: UNITE 2030 is gearing up for their Camp 2030 Summit this September in New York. UNITE 2030's inaugural in-person Summit , Camp 2030 is a 6-day Innovation Lab, bringing together 250+ of the world's top Youth Leaders from across the globe for innovation and co-creation for the UN SDGs.

During Camp, Changemakers from over 50 countries gather at a unique venue in Adirondack National Park to connect with like-minded peers, trailblazers, and influencers; develop global competence and critical skills; and transform their vision for a better future into action, and work in teams to create solutions to the world's most pressing challenges. On the final day of Camp. Campers will return to New York City to pitch their solutions to SDG related challenges.

Camp 2030 is an unrivaled networking opportunity that creates friendships that transcend borders and last lifetimes.
In its inaugural year, Camp 2030 aims to become one of the leading youth action programs focused on the United Nations Sustainable Development Goals;
1,000+ collaborations & connections between Changemakers including local and regional projects;
Multiple leadership opportunities for delegates to win awards and prizes of up to $10,000 dollars to fund their social impact projects, and recognition on a global stage.
[Note to the editor: please contact Grace Callanta with further press inquiries.
grace@unite2030.com
]
Contact
Grace Callanta
***@unite2030.com
Photos: (Click photo to enlarge)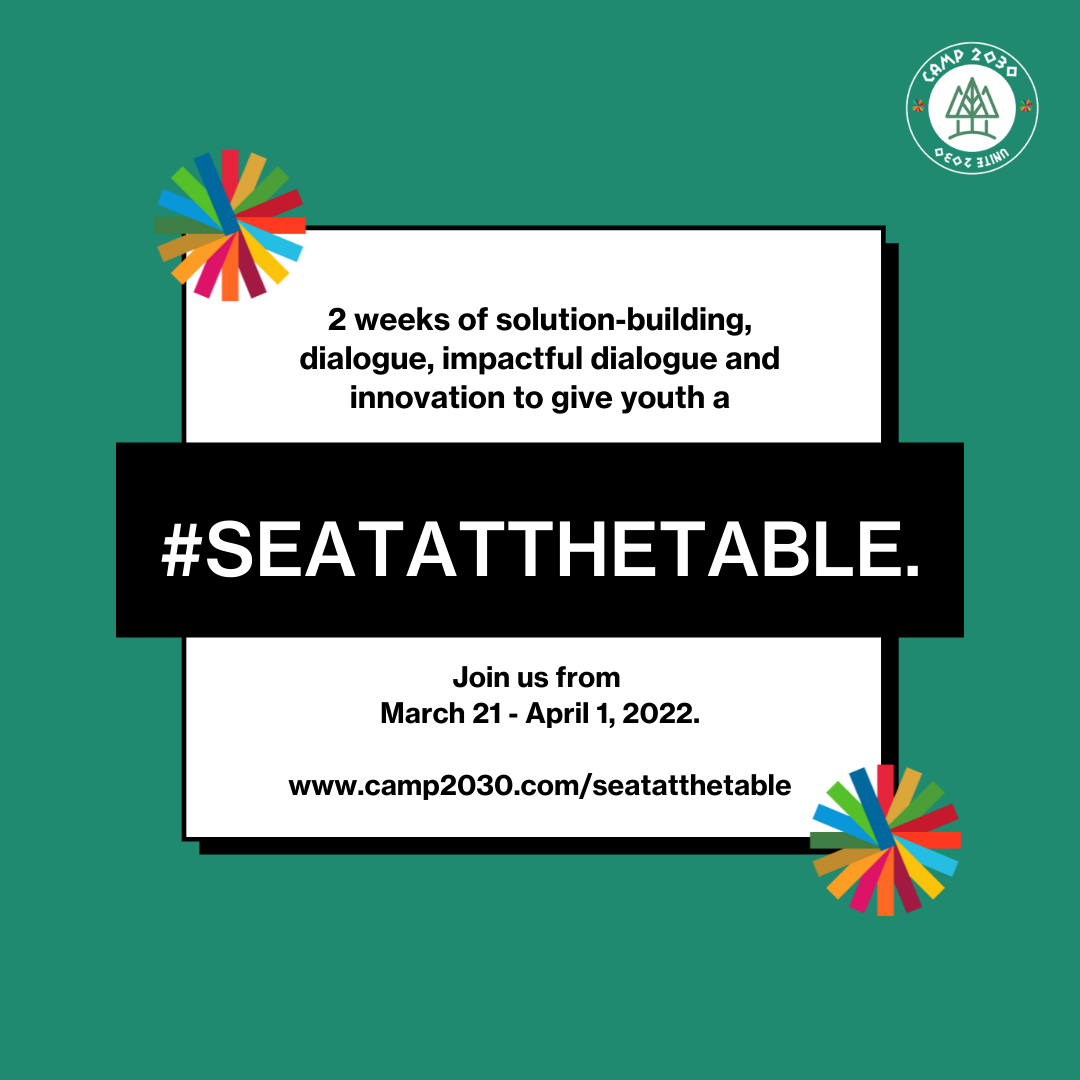 Read Full Story -
UNITE 2030 launches #SeatAtTheTable Campaign to inspire aspiring social entrepreneurs to take action
|
More news from this source
Press release distribution by PRLog