Macy's and Kohl's are raising clothing prices to protect profits. Investors see that as a big win.
November 19, 2021 at 08:19 AM EST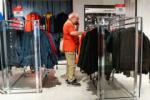 A round of retail earnings revealed a divide between the retailers that are trying to keep prices low for customers and those that passing on bigger receipts.