Continuing Education for Nurses by Nurses Who Are Blowing Up the Boxes that the Rest of the World Is Still Trying to Think Outside of.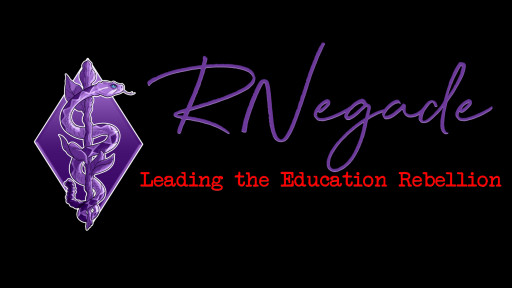 Logo
RNegade LLC logo\/banner
LAKE OSWEGO, Ore. - October 5, 2021 - (
Newswire.com
)
RNegade, LLC  announces its online platform built for nurses by nurses revolutionizing the way nurses pursue professional education.  
WHAT: Continuing Nursing Education CEs; AKA - Continuing Professional Development- CPD
WHY: The purpose of continuing nursing education is to:
refresh memory - review information rarely required, but potentially vital, to patient care
sharpen skills - adapt to individual and situational nuances; incorporate new technologies
enhance knowledge - incorporate the rationale for current practices; adopt and adapt new research and medical innovation to improve practice
foster resilience - psychological and physical health for self and others; conflict de-escalation and resolution; leadership and communication 
WHEN: Every two years, a majority of states require nurses to complete CEs for licensure. Other states require many more CEs to maintain specialty certifications, i.e. Operating Room, ICU, ER/Trauma, etc. Other states have even more specific requirements.
BUY-IN: In April 2021, BMC Nursing published a metasynthesis of 25 articles that gave voice to the importance that nurses place on continuing education for their professional development: 
Nurses are motivated to take part in CPD to enhance their knowledge, improve skills and keep up-to-date with recent evidence. They believe that CPD has a positive impact on patient care, professionalism, and is important for enhancing and keeping knowledge and skills up-to-date.
Furthermore, the study reported:

Nurses' professional confidence and knowledge were enhanced. They could challenge medical decisions and the status quo, and that enhanced their skills for better patient care. Furthermore, CPD increased nurses' communication skills and collaboration with other professionals and it reduced work-related anxiety.
THE PROBLEM: Despite the high value that nurses place on CPD, nurses often wait until the 'last-minute,' and settle for mediocre options to just check a box and fulfill the mandatory requirement with outdated, uninspiring, prescriptive content, delivered through inconvenient, antiquated methods, i.e: a six-hour lecture on CD. 
THE SOLUTION: RNegade was created for nurses, by nurses, to deliver the 'what,' 'why,' and 'when' through an innovative 'how:'
The RNegade Podcast: real conversations with innovative health experts, visionary leaders, pioneering nurses, and renegade humans who are blowing up the boxes in which the rest of the world still thinks inside.
RNegade's mission is to resuscitate nurses' love for learning and transform Continuing Nursing Education requirements from a disappointing, tedious chore into an inspiring, restorative addiction.
Follow us:
PR Contact: antra@rnegade.pro
Instagram: @rnegade.pro
Facebook: facebook.com/RNegade.pro
TikTok: @rnegade.pro
Press Release Service by
Newswire.com
Original Source:
RNegade, LLC Launches an Innovative and Easy-to-Use Platform for Nurses to Get Their Continuing Education