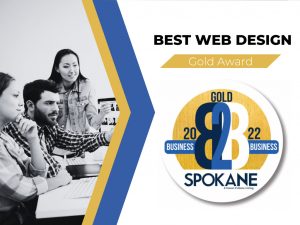 August 19th, 2022: Enleaf, a website design and digital marketing company, has been voted the Best Website Design Company in Spokane, Washington by Spokane Coeur d'Alene Living Magazine. The magazine features all the latest and greatest information about what's happening in Spokane. Founded in 2009, Enleaf has made a name for itself in the industry by designing cutting-edge search engine optimization (SEO) campaigns for its clients. Renowned for building award-winning websites and helping clients organically increase traffic, Enleaf has become an industry leader in SEO and web design services.
"Being voted as Spokane's best website design company shows that our hard work and expertise are paying off. Our dedication to our clients and willingness to stay up-to-date with the latest marketing trends is what has driven us to earn this title of being the best," said Adam Chronister about Enleaf's recent achievements. "We want to thank all the voters who gave their opinions to Spokane Coeur d'Alene Living Magazine—without you, we wouldn't have the honor of being named the best.
The founder of Enleaf, Adam Chronister, has contributed insights and training to some of the world's most well-known digital marketing brands, including presentations for SEMRush, Social Media Week, MarketMuse, and more. His commitment to website building and understanding of SEO has allowed him to lead Enleaf to success over the past decade. Chronister's wide-ranging experience in this industry has shown through in his accomplishments and endeavors as the Director of Operations and founder of Enleaf. Enleaf will continue to serve Spokane and surrounding areas with its first-class SEO and website design services to help clients scale their businesses and increase organic traffic. Brands and businesses can work with Enleaf to create campaigns that are effective and innovative when it comes to advertising, building user-friendly websites, and enhancing SEO practices.
To learn more about Enleaf, go to www.enleaf.com.
About Enleaf
As a leading local SEO Services provider, we work on our client's behalf to grow their customer base through digital marketing. We have been helping to increase the revenue and exposure of both local and national companies since 2009 by boosting website visibility in major search engines like Google, Bing, and Yahoo.
Contact Enleaf
4249 E Pratt Ave Suite B
Spokane
Washington 99202
United States
509-416-6221
Website: https://enleaf.com/