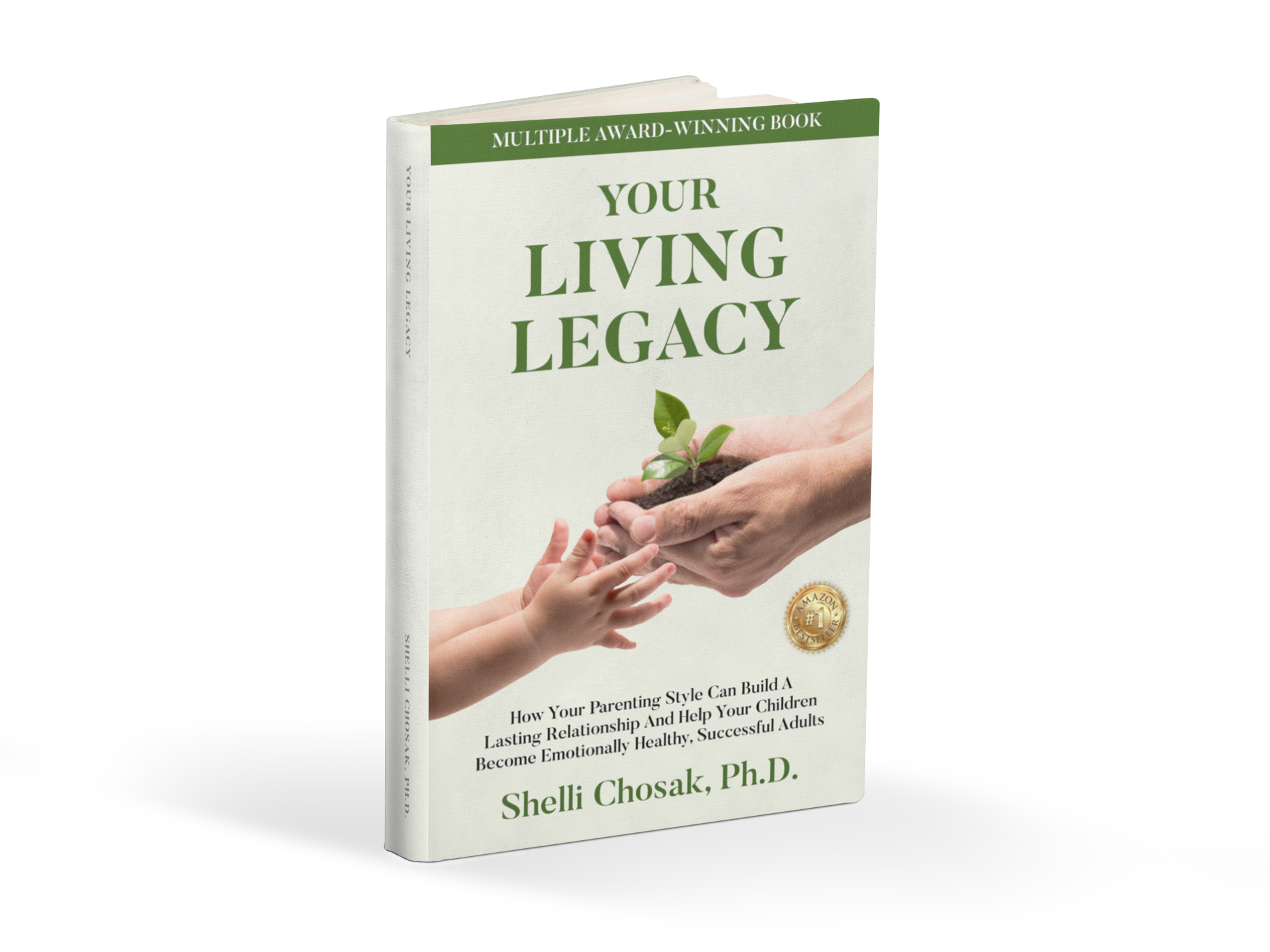 Shelli Chosak's, Your Living Legacy, helps parents acquire the skills to guide and support their children that will enable them to grow into emotionally healthy and successful adults.
Your Living Legacy: How Your Parenting Style Shapes the Future for You and Your Child is an enlightening book that provides a proven blueprint for developing a deeply rewarding and fulfilling bond with children of any age. Drawing on Shelli's extensive professional and personal experience readers will learn how to better understand themselves and their children, explore different parenting styles, and become a role model their kids will want to learn from. With a thorough breakdown of 20 different parenting styles, the book explores how to make sense of your child's behavior, how to evaluate yourself, and what factors can influence your parenting. The book also includes a wealth of self-assessment exercises, so readers can track their progress and map out their own unique approach to parenting.
"This was the realization of my lifelong dream to become an author. It gave me a way to share the topic that is near and dear to my heart--successful parenting," says author Shelli Chosak, PhD. With over 25 years' experience as a psychotherapist, parent of 3 children, and grandmother to 5 grandchildren, Chosak is deeply passionate about helping parents improve their relationships with their children. As a bestselling, multi-award-winning author and mentor, Chosak's devotion to her practice is clear, with an ultimate goal of improving the quality of life for parents and children. "My desire is for parents and caregivers to achieve greater self-awareness resulting in more confidence and comfort in their parenting and build a more positive and lasting relationship with their children."
In the book, Dr. Chosak distills decades of important research into straightforward, practical advice that readers can act on right away. In addition to helping readers identify their unique parenting style, Chosak objectively explains the effects of that style on a child, offers examples of what the parent-child relationship could look like, and closes with some helpful hints on how to improve parenting skills within that style. Chosak encourages parents to use the book to identify the parenting style they most often use, the strengths and risks of their style, and become intentional about addressing their own unique challenges. It's this balance between the theoretical and practical  aspects of the book that help readers understand the concepts of child-rearing and the  components that help them learn through doing that makes the book so special. Chosak's laid back, conversational way of writing is the glue that brings these elements together and makes the book both easy and pleasant to follow.
Your Living Legacy has been endorsed by some of the most well-renowned experts, authors, and reviewers around the world. Professor Sally Nalven, Child Development Dept, San Diego Miramar College, writes, "This book is a welcome common-sense approach for parents who want to build healthy relationships with their children based on mutual love and respect." In addition, Zoreh Ghahremani, Author of The Moon Daughter writes, "Parenthood is often considered instinctive, yet it remains mankind's hardest task. Shelli Chosak clarifies some of the points other books may have left ambiguous."
Offering honest advice for overcoming any parenting challenge you may be facing, Your Living Legacy is an essential resource that will challenge and empower you to become a better parent. Available for sale on Amazon, readers who are looking to better understand themselves in order to become more positive role models for their children are encouraged to purchase their copy today: https://www.ShelliChosak.com
About the Author
Shelli Chosak, Ph.D. has been a practicing psychotherapist and consultant for the past 30 years. She specializes in interpersonal relationships and human behavior. She conducted popular Mother/Daughter workshops for several years, developed and directed a successful training program at a private university for 15 years, was a member of the California Task Force on Parenting and Families, and a delegate to the White House Conference on Families. Shelli is the mother of three adult children and grandmother to five grandchildren. To learn more, please visit: https://www.shellichosak.com
Connect with Shelli Chosak, Ph.D. on Social Media
Facebook: Shelli Chosak
Twitter @cshell
Instagram: ChosakShelli
Media Contact
Company Name: Author News Network
Contact Person: Media Relations
Email: Send Email
Country: United States
Website: authornewsnetwork.com